English Language Company (ELC) is an award-winning English language school in Sydney Australia.
Voted Star English Language School Southern Hemisphere in 2013, 2012, 2011, 2009 and 2007 and shortlisted for the same award in 2008 and 2010, English Language Company is one of the best known English schools in Australia with students from over 35 countries.
Students who study English at ELC learn English quickly and effectively following the most innovative and highest quality English language programs available today.
ELC is also famous for its study and work programs for working holidaymakers and student visa holders. And ELC has a great range of student accommodation options as well as fantastic social activities and sight-seeing options. If you want to study English in Australia and you are looking for high-quality courses, study English at ELC. We look forward to welcoming you to the English Language Company.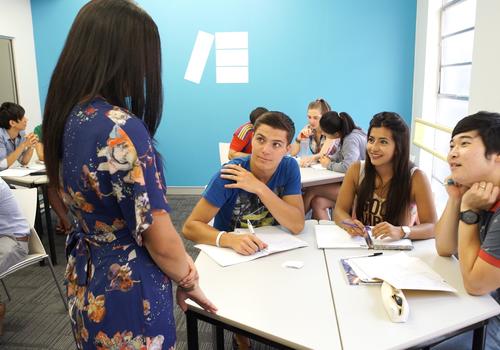 School Prices
---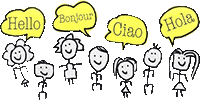 All course prices include: Courses as described, placement test and course certificate, course material, weekly progress evaluation, activities program, computer lounge with free Internet access (also Wi-Fi), study centre and library
Tip: The longer the course, the cheaper the price per week!
01.01.2023 - 31.12.2023 (01.01.2023 - 31.12.2023)
| | << | 1 we.. | 2 we.. | 3 we.. | 4 we.. | 5 we.. | >> |
| --- | --- | --- | --- | --- | --- | --- | --- |
| Standard English Course (15 hours/week) | | 300.3 € | 600.6 € | 900.9 € | 1201.2 € | 1501.5 € | |
| Host Family with Half board (Single room) | | 562 € | 1.124 € | 1.686 € | 2.248 € | 2.811 € | |
| Host Family with Half board (Twin room) | | 539 € | 1.078 € | 1.617 € | 2.156 € | 2.695 € | |
| Shared Apartment Self-catering (Single room) | | 678 € | 1.355 € | 2.033 € | 2.710 € | 3.099 € | |
| Shared Apartment Self-catering (Twin room) | | 604 € | 1.209 € | 1.813 € | 2.418 € | 2.734 € | |
| Residence Self-catering (Single room ensuite) | | 877 € | 1.754 € | 2.631 € | 3.508 € | 4.308 € | |
| Residence Self-catering (Twin room ensuite) | | 808 € | 1.615 € | 2.423 € | 3.231 € | 3.962 € | |
| Intensive English Course (25 hours/week) | | 338.8 € | 677.6 € | 1016.4 € | 1355.2 € | 1694 € | |
| Host Family with Half board (Single room) | | 601 € | 1.201 € | 1.802 € | 2.402 € | 3.003 € | |
| Host Family with Half board (Twin room) | | 578 € | 1.155 € | 1.733 € | 2.310 € | 2.888 € | |
| Shared Apartment Self-catering (Single room) | | 716 € | 1.432 € | 2.148 € | 2.864 € | 3.292 € | |
| Shared Apartment Self-catering (Twin room) | | 643 € | 1.286 € | 1.929 € | 2.572 € | 2.926 € | |
| Residence Self-catering (Single room ensuite) | | 916 € | 1.831 € | 2.747 € | 3.662 € | 4.501 € | |
| Residence Self-catering (Twin room ensuite) | | 846 € | 1.692 € | 2.539 € | 3.385 € | 4.154 € | |
| Standard Business English Course (20 + 5 hrs/week) | | 338.8 € | 677.6 € | 1016.4 € | 1355.2 € | 1694 € | |
| Host Family with Half board (Single room) | | 601 € | 1.201 € | 1.802 € | 2.402 € | 3.003 € | |
| Host Family with Half board (Twin room) | | 578 € | 1.155 € | 1.733 € | 2.310 € | 2.888 € | |
| Shared Apartment Self-catering (Single room) | | 716 € | 1.432 € | 2.148 € | 2.864 € | 3.292 € | |
| Shared Apartment Self-catering (Twin room) | | 643 € | 1.286 € | 1.929 € | 2.572 € | 2.926 € | |
| Residence Self-catering (Single room ensuite) | | 916 € | 1.831 € | 2.747 € | 3.662 € | 4.501 € | |
| Residence Self-catering (Twin room ensuite) | | 846 € | 1.692 € | 2.539 € | 3.385 € | 4.154 € | |
| Combined English Course (20 + 5 hrs/week) | | 539 € | 1078 € | 1617 € | 2156 € | 2695 € | |
| Host Family with Half board (Single room) | | 801 € | 1.602 € | 2.402 € | 3.203 € | 4.004 € | |
| Host Family with Half board (Twin room) | | 778 € | 1.555 € | 2.333 € | 3.111 € | 3.889 € | |
| Shared Apartment Self-catering (Single room) | | 916 € | 1.833 € | 2.749 € | 3.665 € | 4.293 € | |
| Shared Apartment Self-catering (Twin room) | | 843 € | 1.686 € | 2.529 € | 3.373 € | 3.927 € | |
| Residence Self-catering (Single room ensuite) | | 1.116 € | 2.231 € | 3.347 € | 4.463 € | 5.502 € | |
| Residence Self-catering (Twin room ensuite) | | 1.046 € | 2.093 € | 3.139 € | 4.186 € | 5.155 € | |
| Intensive Business English Course (15 + 10 hrs/week) | | 569.8 € | 1139.6 € | 1709.4 € | 2279.2 € | 2849 € | |
| Host Family with Half board (Single room) | | 832 € | 1.663 € | 2.495 € | 3.326 € | 4.158 € | |
| Host Family with Half board (Twin room) | | 809 € | 1.617 € | 2.426 € | 3.234 € | 4.043 € | |
| Shared Apartment Self-catering (Single room) | | 947 € | 1.894 € | 2.841 € | 3.788 € | 4.447 € | |
| Shared Apartment Self-catering (Twin room) | | 874 € | 1.748 € | 2.622 € | 3.496 € | 4.081 € | |
| Residence Self-catering (Single room ensuite) | | 1.147 € | 2.293 € | 3.440 € | 4.586 € | 5.656 € | |
| Residence Self-catering (Twin room ensuite) | | 1.077 € | 2.154 € | 3.232 € | 4.309 € | 5.309 € | |
| Cambridge Exam Course (15 + 10 hrs/week) | | 346.5 € | 693 € | 1039.5 € | 1386 € | 1732.5 € | |
| Host Family with Half board (Single room) | | 608 € | 1.217 € | 1.825 € | 2.433 € | 3.042 € | |
| Host Family with Half board (Twin room) | | 585 € | 1.170 € | 1.756 € | 2.341 € | 2.926 € | |
| Shared Apartment Self-catering (Single room) | | 724 € | 1.448 € | 2.171 € | 2.895 € | 3.330 € | |
| Shared Apartment Self-catering (Twin room) | | 651 € | 1.301 € | 1.952 € | 2.603 € | 2.965 € | |
| Residence Self-catering (Single room ensuite) | | 923 € | 1.846 € | 2.770 € | 3.693 € | 4.539 € | |
| Residence Self-catering (Twin room ensuite) | | 854 € | 1.708 € | 2.562 € | 3.416 € | 4.193 € | |
Course Dates and Info
School holidays: 25.12.2023 - 01.01.2024
National holidays: 02.01.2023 , 26.01.2023 , 07.04.2023 , 10.04.2023 , 25.04.2023 , 12.06.2023 , 02.10.2023
Starting dates: Start every Monday
Starting dates Exam Preparation courses FCE: 09.01.2023 , 20.03.2023 , 11.09.2023
Starting dates Exam Preparation courses (CAE): 09.01.2023 , 20.03.2023 , 11.09.2023
SR - Single room; DR - Twin/double room
Registration fee of the language school (192.5€); Your advantage with Linguago: No registration fee! (-192.5€)
Accommodation
---
Host family
---
Stay with one of our friendly homestays and experience the typical life of an Australian family! All our families are within 60 minutes from the school.
This is ideal for those wanting to…
read more

---
Minimum Age: 16
Mandatory Transfer: No
Accommodation Type: Host family
Board: Bed and Breakfast, Half Board
Bathroom type: private bathroom, shared bathroom
Room type: Single room
Residence
---
Located in a modern student residence in a central location. All bedrooms are private with a private bathroom and a shared kitchen and communal area. The residence is located only a 10-minute…
read more

---
Minimum Age: 18
Mandatory Transfer: No
Accommodation Type: Residence
Board: Self-catering
Bathroom type: private bathroom
Room type: Single room
Shared Apartment
---
Ultimo Terraces
Perfectly situated close to Darling Harbour. The English Language Centre provides accommodation for students wanting to live in a shared apartment with…
read more

---
Minimum Age: 18
Mandatory Transfer: No
Accommodation Type: Shared Apartment
Board: Self-catering
Bathroom type: shared bathroom
Room type: Single room, Double room