EC London is moments away from fashionable King's Cross and has unbeatable access to all areas of the city. Experience first-class facilities, bright classrooms and a fantastic cafeteria at this beautiful, modern school.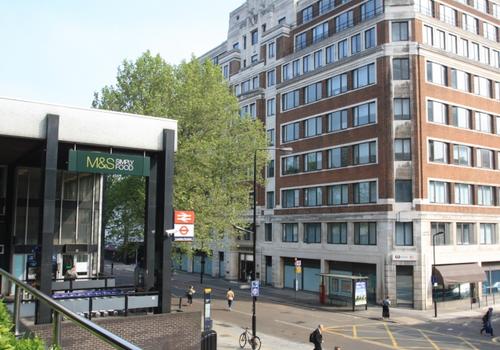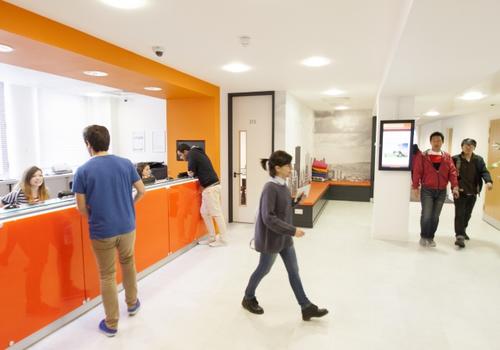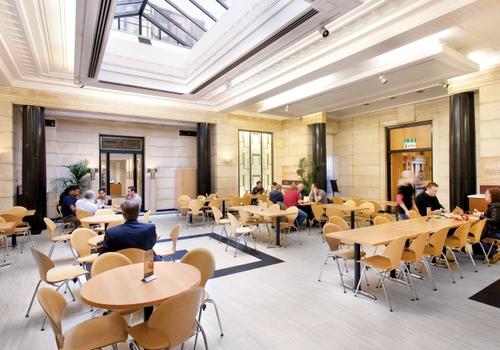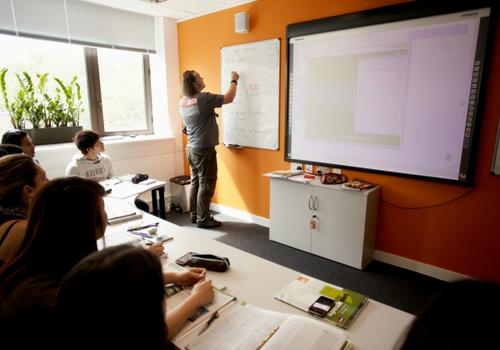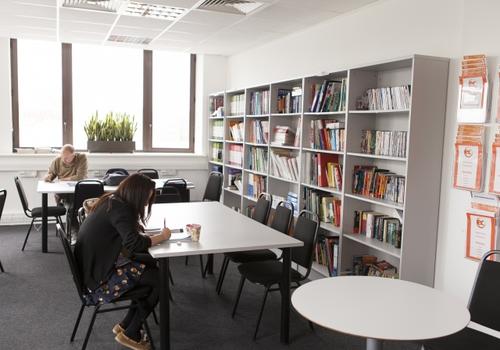 School Prices
---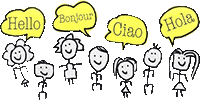 All course prices include: Language course as described, all course material including exercise books, international classes, welcome pack, full activity program, fully supervised excursions, course certificate, personal support from the on-site supervisors.
Tip: The longer the course, the cheaper the price per week!
| | << | 1 we.. | 2 we.. | 3 we.. | 4 we.. | 5 we.. | >> |
| --- | --- | --- | --- | --- | --- | --- | --- |
| Standard English Course (20 lessons/week) | | 443.75 € | 887.5 € | 1331.25 € | 1775 € | 2218.75 € | |
| Host Family with Breakfast Zone 2-3 (Single room) | | 756 € | 1.513 € | 2.269 € | 3.025 € | 3.781 € | |
| Host Family with Breakfast Zone 3-4 (Single room) | | 719 € | 1.438 € | 2.156 € | 2.875 € | 3.594 € | |
| Host family with Breakfast Zone 3-4 (Twin room) | | 675 € | 1.350 € | 2.025 € | 2.700 € | 3.375 € | |
| Host Family with Half board Zone 2-3 (Single room) | | 813 € | 1.625 € | 2.438 € | 3.250 € | 4.063 € | |
| Host Family with Half board Zone 3-4 (Single room) | | 775 € | 1.550 € | 2.325 € | 3.100 € | 3.875 € | |
| Host Family with Half board Zone 3-4 (Twin room) | | 738 € | 1.475 € | 2.213 € | 2.950 € | 3.688 € | |
| Superior Host Family with Breakfast Zone 2-3 (Single room ensuite) | | 838 € | 1.675 € | 2.513 € | 3.350 € | 4.188 € | |
| Superior Host Family with Half board Zone 2-3 (Single room ensuite) | | 881 € | 1.763 € | 2.644 € | 3.525 € | 4.406 € | |
| Superior Residence Self-catering (Studio) | | - | - | - | 4.475 € | 5.594 € | |
| Intensive English Course (30 lessons/week) | | 543.75 € | 1087.5 € | 1631.25 € | 2175 € | 2718.75 € | |
| Host Family with Breakfast Zone 2-3 (Single room) | | 856 € | 1.713 € | 2.569 € | 3.425 € | 4.281 € | |
| Host Family with Breakfast Zone 3-4 (Single room) | | 819 € | 1.638 € | 2.456 € | 3.275 € | 4.094 € | |
| Host family with Breakfast Zone 3-4 (Twin room) | | 775 € | 1.550 € | 2.325 € | 3.100 € | 3.875 € | |
| Host Family with Half board Zone 2-3 (Single room) | | 913 € | 1.825 € | 2.738 € | 3.650 € | 4.563 € | |
| Host Family with Half board Zone 3-4 (Single room) | | 875 € | 1.750 € | 2.625 € | 3.500 € | 4.375 € | |
| Host Family with Half board Zone 3-4 (Twin room) | | 838 € | 1.675 € | 2.513 € | 3.350 € | 4.188 € | |
| Superior Host Family with Breakfast Zone 2-3 (Single room ensuite) | | 938 € | 1.875 € | 2.813 € | 3.750 € | 4.688 € | |
| Superior Host Family with Half board Zone 2-3 (Single room ensuite) | | 981 € | 1.963 € | 2.944 € | 3.925 € | 4.906 € | |
| Superior Residence Self-catering (Studio) | | - | - | - | 4.875 € | 6.094 € | |
| Business English Course (30 lessons/week) | | 543.75 € | 1087.5 € | 1631.25 € | 2175 € | 2718.75 € | |
| Host Family with Breakfast Zone 2-3 (Single room) | | 856 € | 1.713 € | 2.569 € | 3.425 € | 4.281 € | |
| Host Family with Breakfast Zone 3-4 (Single room) | | 819 € | 1.638 € | 2.456 € | 3.275 € | 4.094 € | |
| Host family with Breakfast Zone 3-4 (Twin room) | | 775 € | 1.550 € | 2.325 € | 3.100 € | 3.875 € | |
| Host Family with Half board Zone 2-3 (Single room) | | 913 € | 1.825 € | 2.738 € | 3.650 € | 4.563 € | |
| Host Family with Half board Zone 3-4 (Single room) | | 875 € | 1.750 € | 2.625 € | 3.500 € | 4.375 € | |
| Host Family with Half board Zone 3-4 (Twin room) | | 838 € | 1.675 € | 2.513 € | 3.350 € | 4.188 € | |
| Superior Host Family with Breakfast Zone 2-3 (Single room ensuite) | | 938 € | 1.875 € | 2.813 € | 3.750 € | 4.688 € | |
| Superior Host Family with Half board Zone 2-3 (Single room ensuite) | | 981 € | 1.963 € | 2.944 € | 3.925 € | 4.906 € | |
| Superior Residence Self-catering (Studio) | | - | - | - | 4.875 € | 6.094 € | |
| English in the City (20 + 10 lessons/week) | | 543.75 € | 1087.5 € | 1631.25 € | 2175 € | 2718.75 € | |
| Host Family with Breakfast Zone 2-3 (Single room) | | 856 € | 1.713 € | 2.569 € | 3.425 € | 4.281 € | |
| Host Family with Breakfast Zone 3-4 (Single room) | | 819 € | 1.638 € | 2.456 € | 3.275 € | 4.094 € | |
| Host family with Breakfast Zone 3-4 (Twin room) | | 775 € | 1.550 € | 2.325 € | 3.100 € | 3.875 € | |
| Host Family with Half board Zone 2-3 (Single room) | | 913 € | 1.825 € | 2.738 € | 3.650 € | 4.563 € | |
| Host Family with Half board Zone 3-4 (Single room) | | 875 € | 1.750 € | 2.625 € | 3.500 € | 4.375 € | |
| Host Family with Half board Zone 3-4 (Twin room) | | 838 € | 1.675 € | 2.513 € | 3.350 € | 4.188 € | |
| Superior Host Family with Breakfast Zone 2-3 (Single room ensuite) | | 938 € | 1.875 € | 2.813 € | 3.750 € | 4.688 € | |
| Superior Host Family with Half board Zone 2-3 (Single room ensuite) | | 981 € | 1.963 € | 2.944 € | 3.925 € | 4.906 € | |
| Superior Residence Self-catering (Studio) | | - | - | - | 4.875 € | 6.094 € | |
| Cambridge Exam Preparation (30 lessons/week) | | -- | -- | -- | -- | -- | |
| Host Family with Breakfast Zone 2-3 (Single room) | | -- | -- | -- | -- | -- | |
| Host Family with Breakfast Zone 3-4 (Single room) | | -- | -- | -- | -- | -- | |
| Host family with Breakfast Zone 3-4 (Twin room) | | -- | -- | -- | -- | -- | |
| Host Family with Half board Zone 2-3 (Single room) | | -- | -- | -- | -- | -- | |
| Host Family with Half board Zone 3-4 (Single room) | | -- | -- | -- | -- | -- | |
| Host Family with Half board Zone 3-4 (Twin room) | | -- | -- | -- | -- | -- | |
| Superior Host Family with Breakfast Zone 2-3 (Single room ensuite) | | -- | -- | -- | -- | -- | |
| Superior Host Family with Half board Zone 2-3 (Single room ensuite) | | -- | -- | -- | -- | -- | |
| Superior Residence Self-catering (Studio) | | -- | -- | -- | -- | -- | |
| IELTS Exam Preparation (20 lessons/week) | | -- | -- | -- | 1775 € | 2218.75 € | |
| Host Family with Breakfast Zone 2-3 (Single room) | | -- | -- | -- | 3.025 € | 3.781 € | |
| Host Family with Breakfast Zone 3-4 (Single room) | | -- | -- | -- | 2.875 € | 3.594 € | |
| Host family with Breakfast Zone 3-4 (Twin room) | | -- | -- | -- | 2.700 € | 3.375 € | |
| Host Family with Half board Zone 2-3 (Single room) | | -- | -- | -- | 3.250 € | 4.063 € | |
| Host Family with Half board Zone 3-4 (Single room) | | -- | -- | -- | 3.100 € | 3.875 € | |
| Host Family with Half board Zone 3-4 (Twin room) | | -- | -- | -- | 2.950 € | 3.688 € | |
| Superior Host Family with Breakfast Zone 2-3 (Single room ensuite) | | -- | -- | -- | 3.350 € | 4.188 € | |
| Superior Host Family with Half board Zone 2-3 (Single room ensuite) | | -- | -- | -- | 3.525 € | 4.406 € | |
| Superior Residence Self-catering (Studio) | | -- | -- | -- | 4.475 € | 5.594 € | |
| Private English Course (20 lessons/week) | | 3375 € | 6750 € | 10125 € | 13500 € | 16875 € | |
| Host Family with Breakfast Zone 2-3 (Single room) | | 3.688 € | 7.375 € | 11.063 € | 14.750 € | 18.438 € | |
| Host Family with Breakfast Zone 3-4 (Single room) | | 3.650 € | 7.300 € | 10.950 € | 14.600 € | 18.250 € | |
| Host family with Breakfast Zone 3-4 (Twin room) | | 3.606 € | 7.213 € | 10.819 € | 14.425 € | 18.031 € | |
| Host Family with Half board Zone 2-3 (Single room) | | 3.744 € | 7.488 € | 11.231 € | 14.975 € | 18.719 € | |
| Host Family with Half board Zone 3-4 (Single room) | | 3.706 € | 7.413 € | 11.119 € | 14.825 € | 18.531 € | |
| Host Family with Half board Zone 3-4 (Twin room) | | 3.669 € | 7.338 € | 11.006 € | 14.675 € | 18.344 € | |
| Superior Host Family with Breakfast Zone 2-3 (Single room ensuite) | | 3.769 € | 7.538 € | 11.306 € | 15.075 € | 18.844 € | |
| Superior Host Family with Half board Zone 2-3 (Single room ensuite) | | 3.813 € | 7.625 € | 11.438 € | 15.250 € | 19.063 € | |
| Superior Residence Self-catering (Studio) | | - | - | - | 16.200 € | 20.250 € | |
| Private English Course (30 lessons/week) | | 5062.5 € | 10125 € | 15187.5 € | 20250 € | 25312.5 € | |
| Host Family with Breakfast Zone 2-3 (Single room) | | 5.375 € | 10.750 € | 16.125 € | 21.500 € | 26.875 € | |
| Host Family with Breakfast Zone 3-4 (Single room) | | 5.338 € | 10.675 € | 16.013 € | 21.350 € | 26.688 € | |
| Host family with Breakfast Zone 3-4 (Twin room) | | 5.294 € | 10.588 € | 15.881 € | 21.175 € | 26.469 € | |
| Host Family with Half board Zone 2-3 (Single room) | | 5.431 € | 10.863 € | 16.294 € | 21.725 € | 27.156 € | |
| Host Family with Half board Zone 3-4 (Single room) | | 5.394 € | 10.788 € | 16.181 € | 21.575 € | 26.969 € | |
| Host Family with Half board Zone 3-4 (Twin room) | | 5.356 € | 10.713 € | 16.069 € | 21.425 € | 26.781 € | |
| Superior Host Family with Breakfast Zone 2-3 (Single room ensuite) | | 5.456 € | 10.913 € | 16.369 € | 21.825 € | 27.281 € | |
| Superior Host Family with Half board Zone 2-3 (Single room ensuite) | | 5.500 € | 11.000 € | 16.500 € | 22.000 € | 27.500 € | |
| Superior Residence Self-catering (Studio) | | - | - | - | 22.950 € | 28.688 € | |
Course Dates and Info
National holidays: 02.01.2023 , 07.04.2023 , 10.04.2023 , 01.05.2023 , 29.05.2023 , 28.08.2023 , 25.12.2023 , 26.12.2023
Starting dates: Start every Monday
Starting dates Exam Preparation courses FCE: 02.01.2023 , 02.10.2023
Starting dates Exam Preparation courses (CAE): 02.01.2023 , 02.10.2023
SR - Single room; DR - Twin/double room