The Máximo Nivel Institute overlooks the pristine waters of the Pacific Ocean and is just a few minutes away from the village of Quepos and the Manuel Antonio National Park, Costa Rica's largest protected rainforest, with its beautiful white sand beaches and unique flora and fauna.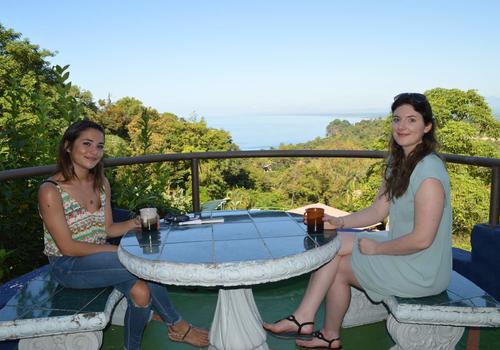 School Prices
---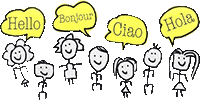 All course prices include: Courses as described, placement test and course certificate, course materials, information, orientation events, activities program, internet connection (WLAN), free coffee and tea.
Tip: The longer the course, the cheaper the price per week!
01.01.2023 - 31.12.2023 (01.01.2023 - 31.12.2023)
| | << | 1 we.. | 2 we.. | 3 we.. | 4 we.. | 5 we.. | >> |
| --- | --- | --- | --- | --- | --- | --- | --- |
| Standard Spanish Course Pacific (20 lessons/week) | | 464.4 € | 928.8 € | 1393.2 € | 1825.2 € | 2257.2 € | |
| Homestay – HB (single room) | | 707 € | 1.415 € | 2.122 € | 2.749 € | 3.413 € | |
| Homestay – HB (twin room) | | 675 € | 1.350 € | 2.025 € | 2.624 € | 3.256 € | |
| Hostel Backpackers - SC (single room) | | 837 € | 1.717 € | 2.597 € | 3.445 € | 4.293 € | |
| Hostel Backpackers - SC (dorm) | | 583 € | 1.183 € | 1.782 € | 2.349 € | 2.916 € | |
| Private Apartment – SC | | - | - | - | 5.260 € | 6.550 € | |
| Intensive Spanish Course Pacific (20 + 10 lessons/week) | | 783 € | 1566 € | 2349 € | 3078 € | 3807 € | |
| Homestay – HB (single room) | | 1.026 € | 2.052 € | 3.078 € | 4.001 € | 4.963 € | |
| Homestay – HB (twin room) | | 994 € | 1.987 € | 2.981 € | 3.877 € | 4.806 € | |
| Hostel Backpackers - SC (single room) | | 1.156 € | 2.354 € | 3.553 € | 4.698 € | 5.843 € | |
| Hostel Backpackers - SC (dorm) | | 902 € | 1.820 € | 2.738 € | 3.602 € | 4.466 € | |
| Private Apartment – SC | | - | - | - | 6.512 € | 8.100 € | |
| Private Spanish Course Pacific (20 lessons/week) | | 783 € | 1566 € | 2349 € | 3024 € | 3699 € | |
| Homestay – HB (single room) | | 1.026 € | 2.052 € | 3.078 € | 3.947 € | 4.855 € | |
| Homestay – HB (twin room) | | 994 € | 1.987 € | 2.981 € | 3.823 € | 4.698 € | |
| Hostel Backpackers - SC (single room) | | 1.156 € | 2.354 € | 3.553 € | 4.644 € | 5.735 € | |
| Hostel Backpackers - SC (dorm) | | 902 € | 1.820 € | 2.738 € | 3.548 € | 4.358 € | |
| Private Apartment – SC | | - | - | - | 6.458 € | 7.992 € | |
| Private Spanish Course Pacific (30 lessons/week) | | 1247.4 € | 2494.8 € | 3742.2 € | 4849.2 € | 5956.2 € | |
| Homestay – HB (single room) | | 1.490 € | 2.981 € | 4.471 € | 5.773 € | 7.112 € | |
| Homestay – HB (twin room) | | 1.458 € | 2.916 € | 4.374 € | 5.648 € | 6.955 € | |
| Hostel Backpackers - SC (single room) | | 1.620 € | 3.283 € | 4.946 € | 6.469 € | 7.992 € | |
| Hostel Backpackers - SC (dorm) | | 1.366 € | 2.749 € | 4.131 € | 5.373 € | 6.615 € | |
| Private Apartment – SC | | - | - | - | 8.284 € | 10.249 € | |
Course Dates and Info
National holidays: 06.04.2023 , 07.04.2023 , 10.04.2023 , 01.05.2023 , 24.07.2023 , 02.08.2023 , 14.08.2023 , 15.09.2023 , 01.12.2023 , 25.12.2023
Starting dates: Start every Monday
SR - Single room; DR - Twin/double room; SHR - Shared room
Accommodation
---
Host family
---
Host Family
Traditional family stay that includes breakfast and dinner 7 days/week (Monday-Sunday) and airport pick-up. All families live in Quepos, a small village next…
read more
---
Minimum Age: 13
Maximum number of students per room: 1
Mandatory Transfer: No
Accommodation Type: Host family
Board: Half Board
Bathroom type: shared bathroom
Room type: Single room, Double room