EC Los Angeles is a modern learning space, just 5 minutes' walk from Santa Monica beach – the ultimate stretch of Southern Californian coastline where the sun shines 340 days a year – and two minutes from all the dining, shopping, and nightlife of famous 3rd Street Promenade.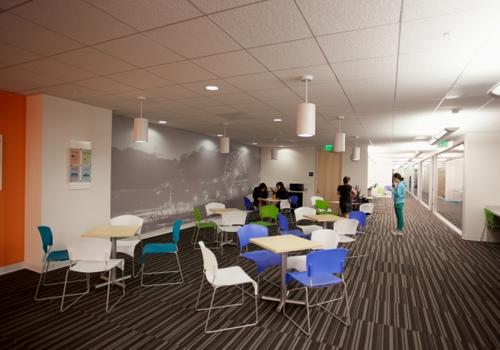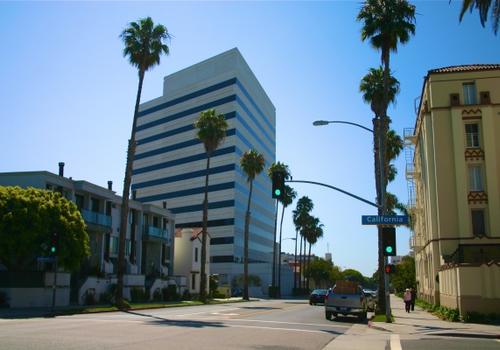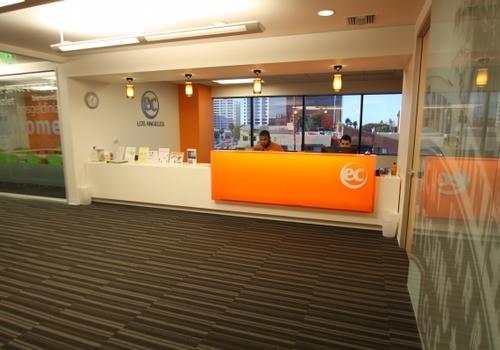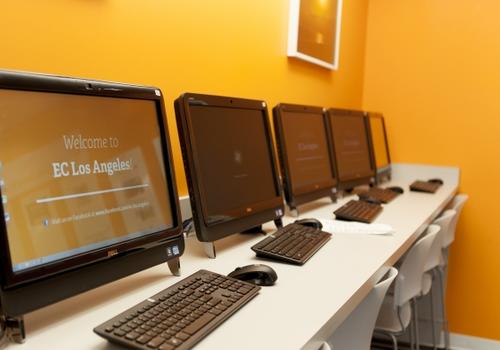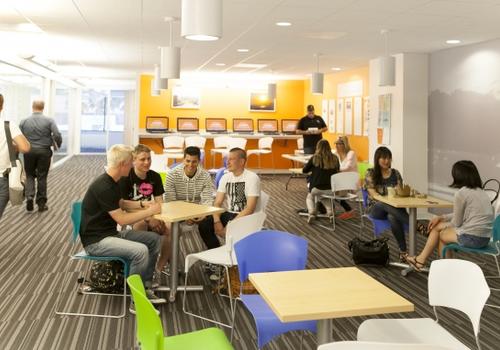 School Prices
---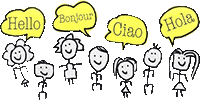 All course prices include: Course book, English language activities and workshops, welcome activity, Oxford online placement test, free internet access (WLAN), all intensive 24+ Courses include choice of Cambridge/TOEFL exam preparation.
Tip: The longer the course, the cheaper the price per week!
| | << | 1 we.. | 2 we.. | 3 we.. | 4 we.. | 5 we.. | >> |
| --- | --- | --- | --- | --- | --- | --- | --- |
| Standard English Course (20 lessons/week) | | 502.2 € | 1004.4 € | 1506.6 € | 2008.8 € | 2511 € | |
| Host Family with Breakfast (Single room) | | 848 € | 1.696 € | 2.543 € | 3.391 € | 4.239 € | |
| Host family with Breakfast (Twin room) | | 815 € | 1.631 € | 2.446 € | 3.262 € | 4.077 € | |
| Host Family with Half board (Single room) | | 934 € | 1.868 € | 2.803 € | 3.737 € | 4.671 € | |
| Host Family with Half board (Twin room) | | 848 € | 1.696 € | 2.543 € | 3.391 € | 4.239 € | |
| Shared Apartment Self-catering (Single room) | | - | 2.333 € | 3.499 € | 4.666 € | 5.832 € | |
| Shared Apartment Self-catering (Twin room) | | - | 1.868 € | 2.803 € | 3.737 € | 4.671 € | |
| Superior Shared Apartment Self-catering (Single room) | | - | - | - | 5.594 € | 6.993 € | |
| Superior Shared Apartment Self-catering (Twin room) | | - | - | - | 4.169 € | 5.211 € | |
| Semi Intensive English Course (24 lessons/week) | | 567 € | 1134 € | 1701 € | 2268 € | 2835 € | |
| Host Family with Breakfast (Single room) | | 913 € | 1.825 € | 2.738 € | 3.650 € | 4.563 € | |
| Host family with Breakfast (Twin room) | | 880 € | 1.760 € | 2.641 € | 3.521 € | 4.401 € | |
| Host Family with Half board (Single room) | | 999 € | 1.998 € | 2.997 € | 3.996 € | 4.995 € | |
| Host Family with Half board (Twin room) | | 913 € | 1.825 € | 2.738 € | 3.650 € | 4.563 € | |
| Shared Apartment Self-catering (Single room) | | - | 2.462 € | 3.694 € | 4.925 € | 6.156 € | |
| Shared Apartment Self-catering (Twin room) | | - | 1.998 € | 2.997 € | 3.996 € | 4.995 € | |
| Superior Shared Apartment Self-catering (Single room) | | - | - | - | 5.854 € | 7.317 € | |
| Superior Shared Apartment Self-catering (Twin room) | | - | - | - | 4.428 € | 5.535 € | |
| Intensive English Course (30 lessons/week) | | 642.6 € | 1285.2 € | 1927.8 € | 2570.4 € | 3213 € | |
| Host Family with Breakfast (Single room) | | 988 € | 1.976 € | 2.965 € | 3.953 € | 4.941 € | |
| Host family with Breakfast (Twin room) | | 956 € | 1.912 € | 2.867 € | 3.823 € | 4.779 € | |
| Host Family with Half board (Single room) | | 1.075 € | 2.149 € | 3.224 € | 4.298 € | 5.373 € | |
| Host Family with Half board (Twin room) | | 988 € | 1.976 € | 2.965 € | 3.953 € | 4.941 € | |
| Shared Apartment Self-catering (Single room) | | - | 2.614 € | 3.920 € | 5.227 € | 6.534 € | |
| Shared Apartment Self-catering (Twin room) | | - | 2.149 € | 3.224 € | 4.298 € | 5.373 € | |
| Superior Shared Apartment Self-catering (Single room) | | - | - | - | 6.156 € | 7.695 € | |
| Superior Shared Apartment Self-catering (Twin room) | | - | - | - | 4.730 € | 5.913 € | |
| Intensive Business English Course (24 lessons/week) | | 567 € | 1134 € | 1701 € | 2268 € | 2835 € | |
| Host Family with Breakfast (Single room) | | 913 € | 1.825 € | 2.738 € | 3.650 € | 4.563 € | |
| Host family with Breakfast (Twin room) | | 880 € | 1.760 € | 2.641 € | 3.521 € | 4.401 € | |
| Host Family with Half board (Single room) | | 999 € | 1.998 € | 2.997 € | 3.996 € | 4.995 € | |
| Host Family with Half board (Twin room) | | 913 € | 1.825 € | 2.738 € | 3.650 € | 4.563 € | |
| Shared Apartment Self-catering (Single room) | | - | 2.462 € | 3.694 € | 4.925 € | 6.156 € | |
| Shared Apartment Self-catering (Twin room) | | - | 1.998 € | 2.997 € | 3.996 € | 4.995 € | |
| Superior Shared Apartment Self-catering (Single room) | | - | - | - | 5.854 € | 7.317 € | |
| Superior Shared Apartment Self-catering (Twin room) | | - | - | - | 4.428 € | 5.535 € | |
| Private English Course (20 lessons/week) | | 3348 € | 6696 € | 10044 € | 13392 € | 16740 € | |
| Host Family with Breakfast (Single room) | | 3.694 € | 7.387 € | 11.081 € | 14.774 € | 18.468 € | |
| Host family with Breakfast (Twin room) | | 3.661 € | 7.322 € | 10.984 € | 14.645 € | 18.306 € | |
| Host Family with Half board (Single room) | | 3.780 € | 7.560 € | 11.340 € | 15.120 € | 18.900 € | |
| Host Family with Half board (Twin room) | | 3.694 € | 7.387 € | 11.081 € | 14.774 € | 18.468 € | |
| Shared Apartment Self-catering (Single room) | | - | 8.024 € | 12.037 € | 16.049 € | 20.061 € | |
| Shared Apartment Self-catering (Twin room) | | - | 7.560 € | 11.340 € | 15.120 € | 18.900 € | |
| Superior Shared Apartment Self-catering (Single room) | | - | - | - | 16.978 € | 21.222 € | |
| Superior Shared Apartment Self-catering (Twin room) | | - | - | - | 15.552 € | 19.440 € | |
| Private English Course (30 lessons/week) | | 5022 € | 10044 € | 15066 € | 20088 € | 25110 € | |
| Host Family with Breakfast (Single room) | | 5.368 € | 10.735 € | 16.103 € | 21.470 € | 26.838 € | |
| Host family with Breakfast (Twin room) | | 5.335 € | 10.670 € | 16.006 € | 21.341 € | 26.676 € | |
| Host Family with Half board (Single room) | | 5.454 € | 10.908 € | 16.362 € | 21.816 € | 27.270 € | |
| Host Family with Half board (Twin room) | | 5.368 € | 10.735 € | 16.103 € | 21.470 € | 26.838 € | |
| Shared Apartment Self-catering (Single room) | | - | 11.372 € | 17.059 € | 22.745 € | 28.431 € | |
| Shared Apartment Self-catering (Twin room) | | - | 10.908 € | 16.362 € | 21.816 € | 27.270 € | |
| Superior Shared Apartment Self-catering (Single room) | | - | - | - | 23.674 € | 29.592 € | |
| Superior Shared Apartment Self-catering (Twin room) | | - | - | - | 22.248 € | 27.810 € | |
Course Dates and Info
National holidays: 02.01.2023 , 16.01.2023 , 20.02.2023 , 31.03.2023 , 29.05.2023 , 19.06.2023 , 04.07.2023 , 04.09.2023 , 09.10.2023 , 10.11.2023 , 23.11.2023 , 24.11.2023 , 25.12.2023
Starting dates: Start every Monday
SR - Single room; DR - Twin/double room
Accommodation
---
Host family
---
Staying with a local family is a great way to immerse oneself in American culture. This interaction with a family helps students communicate and practice their English in a more relaxed…
read more

---
Minimum Age: 16
Maximum number of students per room: 1
Mandatory Transfer: No
Accommodation Type: Host family
Board: Bed and Breakfast, Half Board
Bathroom type: shared bathroom
Room type: Single room, Double room
Shared Apartment
---
Standard Westwood Shared Apartment
EC's Oakwood Marina del Rey apartments are located within Oakwood Marina del Rey's gated apartment community. The studio apartments can accommodate up to…
read more

---
Minimum Age: 18
Maximum number of students per room: 2
Mandatory Transfer: No
Accommodation Type: Shared Apartment
Board: Self-catering
Bathroom type: shared bathroom
Room type: Single room, Double room
Superior Apartment
---
Santa Monica Downtown Shared Apartment
EC's Santa Monica Downtown Shared Apartments are located in the vibrant beach neighborhood of Santa Monica. Restaurants, shopping and the beach are just…
read more
---
Minimum Age: 18
Maximum number of students per room: 2
Mandatory Transfer: No
Accommodation Type: Superior Apartment
Board: Self-catering
Bathroom type: shared bathroom
Room type: Single room, Double room