BELS Malta provides English Language courses for adults all year round. The school is located in the seaside town of St Paul's Bay, within walking distance to the sea.
The school itself has state of the art teaching facilities, modern spacious classrooms and air conditioning throughout.
We also provide accommodation with a local host family or private self-catering apartments.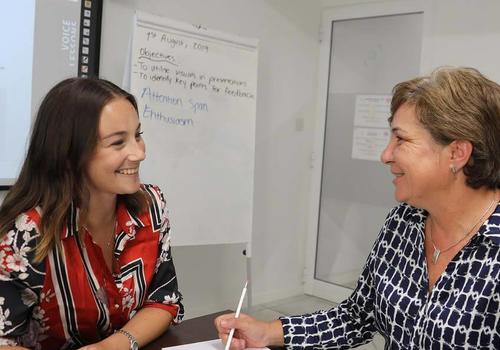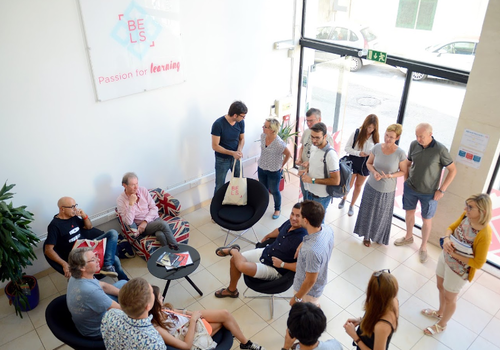 School Prices
---
| | << | 1 we.. | 2 we.. | 3 we.. | 4 we.. | 5 we.. | >> |
| --- | --- | --- | --- | --- | --- | --- | --- |
| Standard English Course (20 lessons/week) | | 205 € | 410 € | 615 € | 820 € | 1025 € | |
| Host Family with Half board (Single room) | | 510 € | 1.020 € | 1.530 € | 2.040 € | 2.550 € | |
| Host Family with Half board (Twin room) | | 470 € | 940 € | 1.410 € | 1.880 € | 2.350 € | |
| Host Family with Half board (Single room ensuite) | | 580 € | 1.160 € | 1.740 € | 2.320 € | 2.900 € | |
| Host Family with Half board (Twin room ensuite) | | 540 € | 1.080 € | 1.620 € | 2.160 € | 2.700 € | |
| Residence Self-catering (Single room) | | 440 € | 880 € | 1.320 € | 1.760 € | 2.200 € | |
| Residence Self-catering (Twin room) | | 380 € | 760 € | 1.140 € | 1.520 € | 1.900 € | |
| Superior Residence Self-catering (Single room) | | 480 € | 960 € | 1.440 € | 1.920 € | 2.400 € | |
| Superior Residence Self-catering (Twin room) | | 410 € | 820 € | 1.230 € | 1.640 € | 2.050 € | |
| Intensive English Course (30 lessons/week) | | 305 € | 610 € | 915 € | 1220 € | 1525 € | |
| Host Family with Half board (Single room) | | 610 € | 1.220 € | 1.830 € | 2.440 € | 3.050 € | |
| Host Family with Half board (Twin room) | | 570 € | 1.140 € | 1.710 € | 2.280 € | 2.850 € | |
| Host Family with Half board (Single room ensuite) | | 680 € | 1.360 € | 2.040 € | 2.720 € | 3.400 € | |
| Host Family with Half board (Twin room ensuite) | | 640 € | 1.280 € | 1.920 € | 2.560 € | 3.200 € | |
| Residence Self-catering (Single room) | | 540 € | 1.080 € | 1.620 € | 2.160 € | 2.700 € | |
| Residence Self-catering (Twin room) | | 480 € | 960 € | 1.440 € | 1.920 € | 2.400 € | |
| Superior Residence Self-catering (Single room) | | 580 € | 1.160 € | 1.740 € | 2.320 € | 2.900 € | |
| Superior Residence Self-catering (Twin room) | | 510 € | 1.020 € | 1.530 € | 2.040 € | 2.550 € | |
| Standard English Course Mini group (20 lessons/week) | | 300 € | 600 € | 900 € | 1200 € | 1500 € | |
| Host Family with Half board (Single room) | | 605 € | 1.210 € | 1.815 € | 2.420 € | 3.025 € | |
| Host Family with Half board (Twin room) | | 565 € | 1.130 € | 1.695 € | 2.260 € | 2.825 € | |
| Host Family with Half board (Single room ensuite) | | 675 € | 1.350 € | 2.025 € | 2.700 € | 3.375 € | |
| Host Family with Half board (Twin room ensuite) | | 635 € | 1.270 € | 1.905 € | 2.540 € | 3.175 € | |
| Residence Self-catering (Single room) | | 535 € | 1.070 € | 1.605 € | 2.140 € | 2.675 € | |
| Residence Self-catering (Twin room) | | 475 € | 950 € | 1.425 € | 1.900 € | 2.375 € | |
| Superior Residence Self-catering (Single room) | | 575 € | 1.150 € | 1.725 € | 2.300 € | 2.875 € | |
| Superior Residence Self-catering (Twin room) | | 505 € | 1.010 € | 1.515 € | 2.020 € | 2.525 € | |
| Intensive English Course Mini group (30 lessons/week) | | 410 € | 820 € | 1230 € | 1640 € | 2050 € | |
| Host Family with Half board (Single room) | | 715 € | 1.430 € | 2.145 € | 2.860 € | 3.575 € | |
| Host Family with Half board (Twin room) | | 675 € | 1.350 € | 2.025 € | 2.700 € | 3.375 € | |
| Host Family with Half board (Single room ensuite) | | 785 € | 1.570 € | 2.355 € | 3.140 € | 3.925 € | |
| Host Family with Half board (Twin room ensuite) | | 745 € | 1.490 € | 2.235 € | 2.980 € | 3.725 € | |
| Residence Self-catering (Single room) | | 645 € | 1.290 € | 1.935 € | 2.580 € | 3.225 € | |
| Residence Self-catering (Twin room) | | 585 € | 1.170 € | 1.755 € | 2.340 € | 2.925 € | |
| Superior Residence Self-catering (Single room) | | 685 € | 1.370 € | 2.055 € | 2.740 € | 3.425 € | |
| Superior Residence Self-catering (Twin room) | | 615 € | 1.230 € | 1.845 € | 2.460 € | 3.075 € | |
| Business English Course Mini group (20 lessons/week) | | 360 € | 720 € | 1080 € | 1440 € | 1800 € | |
| Host Family with Half board (Single room) | | 665 € | 1.330 € | 1.995 € | 2.660 € | 3.325 € | |
| Host Family with Half board (Twin room) | | 625 € | 1.250 € | 1.875 € | 2.500 € | 3.125 € | |
| Host Family with Half board (Single room ensuite) | | 735 € | 1.470 € | 2.205 € | 2.940 € | 3.675 € | |
| Host Family with Half board (Twin room ensuite) | | 695 € | 1.390 € | 2.085 € | 2.780 € | 3.475 € | |
| Residence Self-catering (Single room) | | 595 € | 1.190 € | 1.785 € | 2.380 € | 2.975 € | |
| Residence Self-catering (Twin room) | | 535 € | 1.070 € | 1.605 € | 2.140 € | 2.675 € | |
| Superior Residence Self-catering (Single room) | | 635 € | 1.270 € | 1.905 € | 2.540 € | 3.175 € | |
| Superior Residence Self-catering (Twin room) | | 565 € | 1.130 € | 1.695 € | 2.260 € | 2.825 € | |
| Private English Course (20 lessons/week) | | 700 € | 1400 € | 2100 € | 2800 € | 3500 € | |
| Host Family with Half board (Single room) | | 1.005 € | 2.010 € | 3.015 € | 4.020 € | 5.025 € | |
| Host Family with Half board (Twin room) | | 965 € | 1.930 € | 2.895 € | 3.860 € | 4.825 € | |
| Host Family with Half board (Single room ensuite) | | 1.075 € | 2.150 € | 3.225 € | 4.300 € | 5.375 € | |
| Host Family with Half board (Twin room ensuite) | | 1.035 € | 2.070 € | 3.105 € | 4.140 € | 5.175 € | |
| Residence Self-catering (Single room) | | 935 € | 1.870 € | 2.805 € | 3.740 € | 4.675 € | |
| Residence Self-catering (Twin room) | | 875 € | 1.750 € | 2.625 € | 3.500 € | 4.375 € | |
| Superior Residence Self-catering (Single room) | | 975 € | 1.950 € | 2.925 € | 3.900 € | 4.875 € | |
| Superior Residence Self-catering (Twin room) | | 905 € | 1.810 € | 2.715 € | 3.620 € | 4.525 € | |
| Private English Course (30 lessons/week) | | 1050 € | 2100 € | 3150 € | 4200 € | 5250 € | |
| Host Family with Half board (Single room) | | 1.355 € | 2.710 € | 4.065 € | 5.420 € | 6.775 € | |
| Host Family with Half board (Twin room) | | 1.315 € | 2.630 € | 3.945 € | 5.260 € | 6.575 € | |
| Host Family with Half board (Single room ensuite) | | 1.425 € | 2.850 € | 4.275 € | 5.700 € | 7.125 € | |
| Host Family with Half board (Twin room ensuite) | | 1.385 € | 2.770 € | 4.155 € | 5.540 € | 6.925 € | |
| Residence Self-catering (Single room) | | 1.285 € | 2.570 € | 3.855 € | 5.140 € | 6.425 € | |
| Residence Self-catering (Twin room) | | 1.225 € | 2.450 € | 3.675 € | 4.900 € | 6.125 € | |
| Superior Residence Self-catering (Single room) | | 1.325 € | 2.650 € | 3.975 € | 5.300 € | 6.625 € | |
| Superior Residence Self-catering (Twin room) | | 1.255 € | 2.510 € | 3.765 € | 5.020 € | 6.275 € | |
Course Dates and Info
National holidays: 10.02.2023 , 31.03.2023 , 07.04.2023 , 01.05.2023 , 07.06.2023 , 29.06.2023 , 15.08.2023 , 08.09.2023 , 21.09.2023 , 08.12.2023 , 13.12.2023 , 25.12.2023
Starting dates: Start every Monday
Starting dates Business Course: 02.01.2023 , 30.01.2023 , 27.02.2023 , 27.03.2023 , 24.04.2023 , 22.05.2023 , 19.06.2023 , 17.07.2023 , 14.08.2023 , 11.09.2023 , 09.10.2023 , 06.11.2023 , 04.12.2023
SR - Single room; DR - Twin/double room