Southbourne School of English is a successful family-owned language school established in 1966, set in a perfect location, occupying purpose-built facilities in a safe and beautiful residential area of Bournemouth and a ten-minute walk from the town's award-winning golden beaches, and a short bus-ride from the town centre. It is the perfect destination for students who want to make the most of their stay in England. Bournemouth, is a comfortable two-hour train journey from London and many other places of world-renown are within easy reach including Salisbury Cathedral, Stonehenge, Winchester, the Jurassic Coast (a World Heritage Site), the New Forest National Park, Bath, Oxford, and more.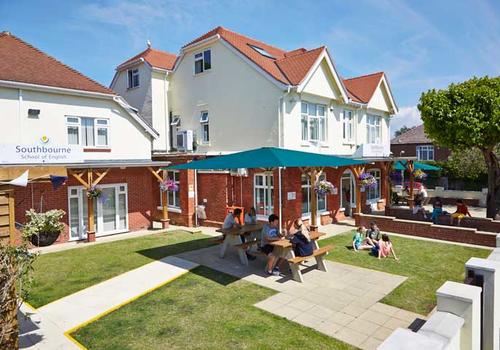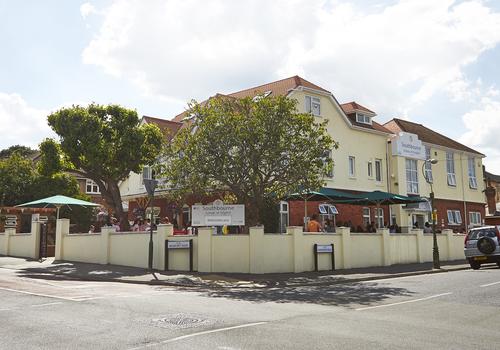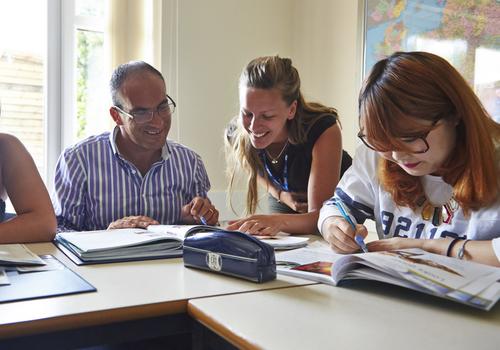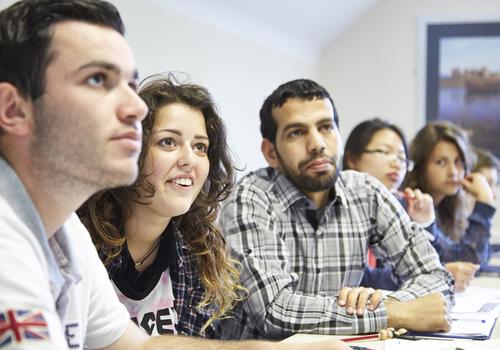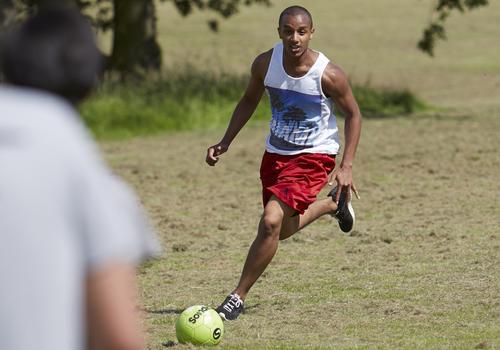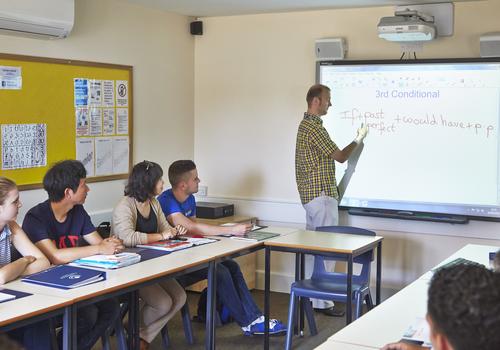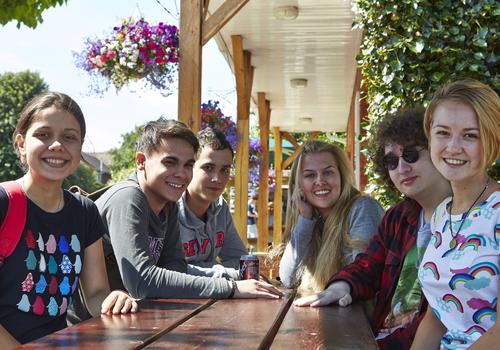 School Prices
---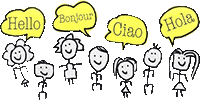 All course prices include: Complete language course material including: exercise books, ring binders, city map, information pack, course certificate, use of computers and high-speed Internet access (WLAN), city excursion after the placement test, personal support from the student counselor and regular course feedback sessions with the class teacher.
Tip: The longer the course, the cheaper the price per week!
| | << | 1 we.. | 2 we.. | 3 we.. | 4 we.. | 5 we.. | >> |
| --- | --- | --- | --- | --- | --- | --- | --- |
| Standard English Course (20 lessons/week) | | 343.75 € | 687.5 € | 1031.25 € | 1375 € | 1656.25 € | |
| Homestay – HB (single room) | | 550 € | 1.100 € | 1.650 € | 2.200 € | 2.688 € | |
| Homestay – HB (twin room) | | 550 € | 1.100 € | 1.650 € | 2.200 € | 2.688 € | |
| Intensive English Course (28 lessons/week) | | 393.75 € | 787.5 € | 1181.25 € | 1575 € | 1906.25 € | |
| Homestay – HB (single room) | | 600 € | 1.200 € | 1.800 € | 2.400 € | 2.938 € | |
| Homestay – HB (twin room) | | 600 € | 1.200 € | 1.800 € | 2.400 € | 2.938 € | |
| Standard Business English Course (20 + 8 lessons/week) | | 906.25 € | 1812.5 € | 2718.75 € | 3625 € | 4531.25 € | |
| Homestay – HB (single room) | | 1.113 € | 2.225 € | 3.338 € | 4.450 € | 5.563 € | |
| Homestay – HB (twin room) | | 1.113 € | 2.225 € | 3.338 € | 4.450 € | 5.563 € | |
| Intensive Business English Course (28 + 8 lessons /week) | | 956.25 € | 1912.5 € | 2868.75 € | 3825 € | 4781.25 € | |
| Homestay – HB (single room) | | 1.163 € | 2.325 € | 3.488 € | 4.650 € | 5.813 € | |
| Homestay – HB (twin room) | | 1.163 € | 2.325 € | 3.488 € | 4.650 € | 5.813 € | |
| Private English Course (20 hrs/week) | | 1875 € | 3750 € | 5625 € | 7500 € | 9375 € | |
| Homestay – HB (single room) | | 2.081 € | 4.163 € | 6.244 € | 8.325 € | 10.406 € | |
| Homestay – HB (twin room) | | 2.081 € | 4.163 € | 6.244 € | 8.325 € | 10.406 € | |
| Private English Course (30 hrs/week) | | 2812.5 € | 5625 € | 8437.5 € | 11250 € | 14062.5 € | |
| Homestay – HB (single room) | | 3.019 € | 6.038 € | 9.056 € | 12.075 € | 15.094 € | |
| Homestay – HB (twin room) | | 3.019 € | 6.038 € | 9.056 € | 12.075 € | 15.094 € | |
| Combined English Course (20 + 8 lessons/week) | | 906.25 € | 1812.5 € | 2718.75 € | 3625 € | 4531.25 € | |
| Homestay – HB (single room) | | 1.113 € | 2.225 € | 3.338 € | 4.450 € | 5.563 € | |
| Homestay – HB (twin room) | | 1.113 € | 2.225 € | 3.338 € | 4.450 € | 5.563 € | |
| Combined English Course (28 + 8 lessons /week) | | 956.25 € | 1912.5 € | 2868.75 € | 3825 € | 4781.25 € | |
| Homestay – HB (single room) | | 1.163 € | 2.325 € | 3.488 € | 4.650 € | 5.813 € | |
| Homestay – HB (twin room) | | 1.163 € | 2.325 € | 3.488 € | 4.650 € | 5.813 € | |
Course Dates and Info
National holidays: 07.04.2023 , 10.04.2023 , 01.05.2023 , 29.05.2023 , 28.08.2023
School holidays: 18.12.2023 - 01.01.2024
Starting dates: Start every Monday
Starting dates Exam preparation (IELTS): 13.02.2023 , 01.05.2023 , 11.09.2023
Starting dates Exam Preparation courses FCE: 13.02.2023 , 31.07.2023 , 13.11.2023
Starting dates Exam Preparation courses (CAE): 13.02.2023 , 31.07.2023 , 13.11.2023
SR - Single room; DR - Twin/double room
Your advantage with Linguago: No registration fee! (-125€); Registration fee of the language school (125€)
Accommodation
---
Host family
---
Host Family
We make sure that all our students have a happy, safe home to return to after school. All our host families have been carefully selected by us and some have…
read more

---
Minimum Age: 16
Maximum number of students per room: 1
Mandatory Transfer: No
Accommodation Type: Host family
Board: Half Board
Bathroom type: shared bathroom
Room type: Single room