Our London Highgate school occupies a beautiful building in the fashionable North London suburb of Highgate. Highgate is a leafy and prosperous part of the city with excellent transport connections to the centre of London, which is only 20 minutes away. The local sports, shopping and leisure facilities are excellent and the accommodation is on average 15-45 minutes away by bus or tube.
Surrounded by its own quiet English garden, St Giles Highgate is ideal for learners looking for a peaceful and focused place of study, with lots of personal attention. The welcoming school combines a relaxed atmosphere with high-quality teaching and high academic standards.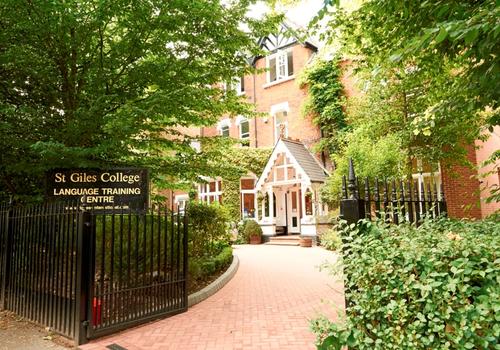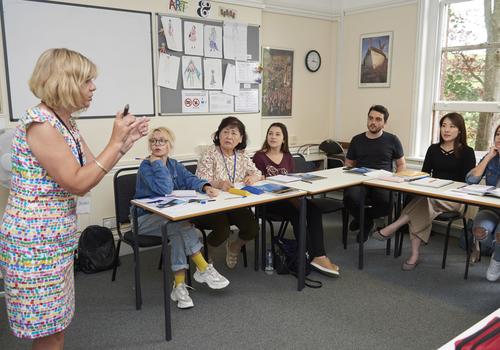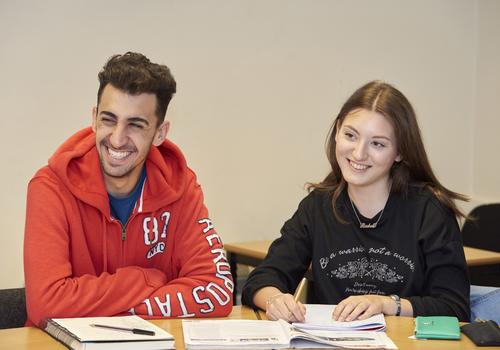 School Prices
---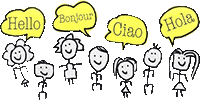 All course prices include: Course as described, placement test and course certificate, course material*, Information material, activity program, free Internet, free Wifi in school, library, DVD rental.
Tip: The longer the course, the cheaper the price per week!
| | << | 1 we.. | 2 we.. | 3 we.. | 4 we.. | 5 we.. | >> |
| --- | --- | --- | --- | --- | --- | --- | --- |
| Standard English Course (20 lessons/week) | | 428.75 € | 857.5 € | 1286.25 € | 1555 € | 1943.75 € | |
| Host Family with Breakfast (Single room) | | 648 € | 1.295 € | 1.943 € | 2.430 € | 3.038 € | |
| Host family with Breakfast (Twin room) | | 609 € | 1.218 € | 1.826 € | 2.275 € | 2.844 € | |
| Host Family with Half board (Single room) | | 703 € | 1.405 € | 2.108 € | 2.650 € | 3.313 € | |
| Host Family with Half board (Twin room) | | 655 € | 1.310 € | 1.965 € | 2.460 € | 3.075 € | |
| Junior Host Family with Half board (Single room) (14-17 year olds) | | 719 € | 1.438 € | 2.156 € | 2.715 € | 3.394 € | |
| Junior Host Family with Half board (Twin room) (14-17 year olds) | | 669 € | 1.338 € | 2.006 € | 2.515 € | 3.144 € | |
| Student Residence with Half board (Single room) | | 764 € | 1.528 € | 2.291 € | 2.895 € | 3.475 € | |
| Student Residence with Half board (Single room ensuite) | | 848 € | 1.695 € | 2.543 € | 3.230 € | 3.850 € | |
| Residence Self-catering (Single room ensuite) | | 904 € | 1.808 € | 2.711 € | 3.455 € | 4.319 € | |
| Standard English Course for Beginners (20 lessons/week) | | -- | 857.5 € | 1286.25 € | 1555 € | -- | |
| Host Family with Breakfast (Single room) | | -- | 1.295 € | 1.943 € | 2.430 € | -- | |
| Host family with Breakfast (Twin room) | | -- | 1.218 € | 1.826 € | 2.275 € | -- | |
| Host Family with Half board (Single room) | | -- | 1.405 € | 2.108 € | 2.650 € | -- | |
| Host Family with Half board (Twin room) | | -- | 1.310 € | 1.965 € | 2.460 € | -- | |
| Junior Host Family with Half board (Single room) (14-17 year olds) | | -- | 1.438 € | 2.156 € | 2.715 € | -- | |
| Junior Host Family with Half board (Twin room) (14-17 year olds) | | -- | 1.338 € | 2.006 € | 2.515 € | -- | |
| Student Residence with Half board (Single room) | | -- | 1.528 € | 2.291 € | 2.895 € | -- | |
| Student Residence with Half board (Single room ensuite) | | -- | 1.695 € | 2.543 € | 3.230 € | -- | |
| Residence Self-catering (Single room ensuite) | | -- | 1.808 € | 2.711 € | 3.455 € | -- | |
| Intensive English Course (28 lessons/week) | | 548.75 € | 1097.5 € | 1646.25 € | 1980 € | 2475 € | |
| Host Family with Breakfast (Single room) | | 768 € | 1.535 € | 2.303 € | 2.855 € | 3.569 € | |
| Host family with Breakfast (Twin room) | | 729 € | 1.458 € | 2.186 € | 2.700 € | 3.375 € | |
| Host Family with Half board (Single room) | | 823 € | 1.645 € | 2.468 € | 3.075 € | 3.844 € | |
| Host Family with Half board (Twin room) | | 775 € | 1.550 € | 2.325 € | 2.885 € | 3.606 € | |
| Junior Host Family with Half board (Single room) (14-17 year olds) | | 839 € | 1.678 € | 2.516 € | 3.140 € | 3.925 € | |
| Junior Host Family with Half board (Twin room) (14-17 year olds) | | 789 € | 1.578 € | 2.366 € | 2.940 € | 3.675 € | |
| Student Residence with Half board (Single room) | | 884 € | 1.768 € | 2.651 € | 3.320 € | 4.006 € | |
| Student Residence with Half board (Single room ensuite) | | 968 € | 1.935 € | 2.903 € | 3.655 € | 4.381 € | |
| Residence Self-catering (Single room ensuite) | | 1.024 € | 2.048 € | 3.071 € | 3.880 € | 4.850 € | |
| Intensive English for Beginners 28 lessons | | -- | 1097.5 € | 1646.25 € | 1980 € | -- | |
| Host Family with Breakfast (Single room) | | -- | 1.535 € | 2.303 € | 2.855 € | -- | |
| Host family with Breakfast (Twin room) | | -- | 1.458 € | 2.186 € | 2.700 € | -- | |
| Host Family with Half board (Single room) | | -- | 1.645 € | 2.468 € | 3.075 € | -- | |
| Host Family with Half board (Twin room) | | -- | 1.550 € | 2.325 € | 2.885 € | -- | |
| Junior Host Family with Half board (Single room) (14-17 year olds) | | -- | 1.678 € | 2.516 € | 3.140 € | -- | |
| Junior Host Family with Half board (Twin room) (14-17 year olds) | | -- | 1.578 € | 2.366 € | 2.940 € | -- | |
| Student Residence with Half board (Single room) | | -- | 1.768 € | 2.651 € | 3.320 € | -- | |
| Student Residence with Half board (Single room ensuite) | | -- | 1.935 € | 2.903 € | 3.655 € | -- | |
| Residence Self-catering (Single room ensuite) | | -- | 2.048 € | 3.071 € | 3.880 € | -- | |
| Intensive English Course (28 lessons/week) for Youths | | 611.25 € | 1222.5 € | 1833.75 € | 2230 € | 2787.5 € | |
| Junior Host Family with Half board (Single room) (14-17 year olds) | | 901 € | 1.803 € | 2.704 € | 3.390 € | 4.238 € | |
| Junior Host Family with Half board (Twin room) (14-17 year olds) | | 851 € | 1.703 € | 2.554 € | 3.190 € | 3.988 € | |
| Standard Business English Course (28 lessons/week) | | -- | 1097.5 € | 1646.25 € | 1980 € | 2475 € | |
| Host Family with Breakfast (Single room) | | -- | 1.535 € | 2.303 € | 2.855 € | 3.569 € | |
| Host family with Breakfast (Twin room) | | -- | 1.458 € | 2.186 € | 2.700 € | 3.375 € | |
| Host Family with Half board (Single room) | | -- | 1.645 € | 2.468 € | 3.075 € | 3.844 € | |
| Host Family with Half board (Twin room) | | -- | 1.550 € | 2.325 € | 2.885 € | 3.606 € | |
| Junior Host Family with Half board (Single room) (14-17 year olds) | | -- | 1.678 € | 2.516 € | 3.140 € | 3.925 € | |
| Junior Host Family with Half board (Twin room) (14-17 year olds) | | -- | 1.578 € | 2.366 € | 2.940 € | 3.675 € | |
| Student Residence with Half board (Single room) | | -- | 1.768 € | 2.651 € | 3.320 € | 4.006 € | |
| Student Residence with Half board (Single room ensuite) | | -- | 1.935 € | 2.903 € | 3.655 € | 4.381 € | |
| Residence Self-catering (Single room ensuite) | | -- | 2.048 € | 3.071 € | 3.880 € | 4.850 € | |
| Combined English Course (20 + 5 lessons/week) | | 772.5 € | 1545 € | 2317.5 € | 2930 € | 3662.5 € | |
| Host Family with Breakfast (Single room) | | 991 € | 1.983 € | 2.974 € | 3.805 € | 4.756 € | |
| Host family with Breakfast (Twin room) | | 953 € | 1.905 € | 2.858 € | 3.650 € | 4.563 € | |
| Host Family with Half board (Single room) | | 1.046 € | 2.093 € | 3.139 € | 4.025 € | 5.031 € | |
| Host Family with Half board (Twin room) | | 999 € | 1.998 € | 2.996 € | 3.835 € | 4.794 € | |
| Junior Host Family with Half board (Single room) (14-17 year olds) | | 1.063 € | 2.125 € | 3.188 € | 4.090 € | 5.113 € | |
| Junior Host Family with Half board (Twin room) (14-17 year olds) | | 1.013 € | 2.025 € | 3.038 € | 3.890 € | 4.863 € | |
| Student Residence with Half board (Single room) | | 1.108 € | 2.215 € | 3.323 € | 4.270 € | 5.194 € | |
| Student Residence with Half board (Single room ensuite) | | 1.191 € | 2.383 € | 3.574 € | 4.605 € | 5.569 € | |
| Residence Self-catering (Single room ensuite) | | 1.248 € | 2.495 € | 3.743 € | 4.830 € | 6.038 € | |
| Combined English Course (28 + 5 lessons/week) | | 892.5 € | 1785 € | 2677.5 € | 3355 € | 4193.75 € | |
| Host Family with Breakfast (Single room) | | 1.111 € | 2.223 € | 3.334 € | 4.230 € | 5.288 € | |
| Host family with Breakfast (Twin room) | | 1.073 € | 2.145 € | 3.218 € | 4.075 € | 5.094 € | |
| Host Family with Half board (Single room) | | 1.166 € | 2.333 € | 3.499 € | 4.450 € | 5.563 € | |
| Host Family with Half board (Twin room) | | 1.119 € | 2.238 € | 3.356 € | 4.260 € | 5.325 € | |
| Junior Host Family with Half board (Single room) (14-17 year olds) | | 1.183 € | 2.365 € | 3.548 € | 4.515 € | 5.644 € | |
| Junior Host Family with Half board (Twin room) (14-17 year olds) | | 1.133 € | 2.265 € | 3.398 € | 4.315 € | 5.394 € | |
| Student Residence with Half board (Single room) | | 1.228 € | 2.455 € | 3.683 € | 4.695 € | 5.725 € | |
| Student Residence with Half board (Single room ensuite) | | 1.311 € | 2.623 € | 3.934 € | 5.030 € | 6.100 € | |
| Residence Self-catering (Single room ensuite) | | 1.368 € | 2.735 € | 4.103 € | 5.255 € | 6.569 € | |
| Teachers of English Course (26 lessons/week) | | -- | 1097.5 € | -- | -- | -- | |
| Host Family with Breakfast (Single room) | | -- | 1.535 € | -- | -- | -- | |
| Host family with Breakfast (Twin room) | | -- | 1.458 € | -- | -- | -- | |
| Host Family with Half board (Single room) | | -- | 1.645 € | -- | -- | -- | |
| Host Family with Half board (Twin room) | | -- | 1.550 € | -- | -- | -- | |
| Junior Host Family with Half board (Single room) (14-17 year olds) | | -- | 1.678 € | -- | -- | -- | |
| Junior Host Family with Half board (Twin room) (14-17 year olds) | | -- | 1.578 € | -- | -- | -- | |
| Student Residence with Half board (Single room) | | -- | 1.768 € | -- | -- | -- | |
| Student Residence with Half board (Single room ensuite) | | -- | 1.935 € | -- | -- | -- | |
| Residence Self-catering (Single room ensuite) | | -- | 2.048 € | -- | -- | -- | |
| IELTS Exam Course (20 lessons/week) | | -- | -- | -- | 1555 € | 1943.75 € | |
| Host Family with Breakfast (Single room) | | -- | -- | -- | 2.430 € | 3.038 € | |
| Host family with Breakfast (Twin room) | | -- | -- | -- | 2.275 € | 2.844 € | |
| Host Family with Half board (Single room) | | -- | -- | -- | 2.650 € | 3.313 € | |
| Host Family with Half board (Twin room) | | -- | -- | -- | 2.460 € | 3.075 € | |
| Junior Host Family with Half board (Single room) (14-17 year olds) | | -- | -- | -- | 2.715 € | 3.394 € | |
| Junior Host Family with Half board (Twin room) (14-17 year olds) | | -- | -- | -- | 2.515 € | 3.144 € | |
| Student Residence with Half board (Single room) | | -- | -- | -- | 2.895 € | 3.475 € | |
| Student Residence with Half board (Single room ensuite) | | -- | -- | -- | 3.230 € | 3.850 € | |
| Residence Self-catering (Single room ensuite) | | -- | -- | -- | 3.455 € | 4.319 € | |
| IELTS Exam Course (28 lessons/week) | | -- | -- | -- | 1980 € | 2475 € | |
| Host Family with Breakfast (Single room) | | -- | -- | -- | 2.855 € | 3.569 € | |
| Host family with Breakfast (Twin room) | | -- | -- | -- | 2.700 € | 3.375 € | |
| Host Family with Half board (Single room) | | -- | -- | -- | 3.075 € | 3.844 € | |
| Host Family with Half board (Twin room) | | -- | -- | -- | 2.885 € | 3.606 € | |
| Junior Host Family with Half board (Single room) (14-17 year olds) | | -- | -- | -- | 3.140 € | 3.925 € | |
| Junior Host Family with Half board (Twin room) (14-17 year olds) | | -- | -- | -- | 2.940 € | 3.675 € | |
| Student Residence with Half board (Single room) | | -- | -- | -- | 3.320 € | 4.006 € | |
| Student Residence with Half board (Single room ensuite) | | -- | -- | -- | 3.655 € | 4.381 € | |
| Residence Self-catering (Single room ensuite) | | -- | -- | -- | 3.880 € | 4.850 € | |
| Cambridge Exam Course (20 lessons/week) | | -- | -- | -- | -- | -- | |
| Host Family with Breakfast (Single room) | | -- | -- | -- | -- | -- | |
| Host family with Breakfast (Twin room) | | -- | -- | -- | -- | -- | |
| Host Family with Half board (Single room) | | -- | -- | -- | -- | -- | |
| Host Family with Half board (Twin room) | | -- | -- | -- | -- | -- | |
| Junior Host Family with Half board (Single room) (14-17 year olds) | | -- | -- | -- | -- | -- | |
| Junior Host Family with Half board (Twin room) (14-17 year olds) | | -- | -- | -- | -- | -- | |
| Student Residence with Half board (Single room) | | -- | -- | -- | -- | -- | |
| Student Residence with Half board (Single room ensuite) | | -- | -- | -- | -- | -- | |
| Residence Self-catering (Single room ensuite) | | -- | -- | -- | -- | -- | |
| Cambridge Exam Course (28 lessons/week) | | -- | -- | -- | -- | -- | |
| Host Family with Breakfast (Single room) | | -- | -- | -- | -- | -- | |
| Host family with Breakfast (Twin room) | | -- | -- | -- | -- | -- | |
| Host Family with Half board (Single room) | | -- | -- | -- | -- | -- | |
| Host Family with Half board (Twin room) | | -- | -- | -- | -- | -- | |
| Junior Host Family with Half board (Single room) (14-17 year olds) | | -- | -- | -- | -- | -- | |
| Junior Host Family with Half board (Twin room) (14-17 year olds) | | -- | -- | -- | -- | -- | |
| Student Residence with Half board (Single room) | | -- | -- | -- | -- | -- | |
| Student Residence with Half board (Single room ensuite) | | -- | -- | -- | -- | -- | |
| Residence Self-catering (Single room ensuite) | | -- | -- | -- | -- | -- | |
| Private English Course (15 lessons/week) | | 1103.75 € | 2142.5 € | 3108.75 € | 4025 € | 5031.25 € | |
| Host Family with Breakfast (Single room) | | 1.323 € | 2.580 € | 3.765 € | 4.900 € | 6.125 € | |
| Host family with Breakfast (Twin room) | | 1.284 € | 2.503 € | 3.649 € | 4.745 € | 5.931 € | |
| Host Family with Half board (Single room) | | 1.378 € | 2.690 € | 3.930 € | 5.120 € | 6.400 € | |
| Host Family with Half board (Twin room) | | 1.330 € | 2.595 € | 3.788 € | 4.930 € | 6.163 € | |
| Junior Host Family with Half board (Single room) (14-17 year olds) | | 1.394 € | 2.723 € | 3.979 € | 5.185 € | 6.481 € | |
| Junior Host Family with Half board (Twin room) (14-17 year olds) | | 1.344 € | 2.623 € | 3.829 € | 4.985 € | 6.231 € | |
| Student Residence with Half board (Single room) | | 1.439 € | 2.813 € | 4.114 € | 5.365 € | 6.563 € | |
| Student Residence with Half board (Single room ensuite) | | 1.523 € | 2.980 € | 4.365 € | 5.700 € | 6.938 € | |
| Residence Self-catering (Single room ensuite) | | 1.579 € | 3.093 € | 4.534 € | 5.925 € | 7.406 € | |
| Private English Course (20 lessons/week) | | 1720 € | 3335 € | 4856.25 € | 6275 € | 7843.75 € | |
| Host Family with Breakfast (Single room) | | 1.939 € | 3.773 € | 5.513 € | 7.150 € | 8.938 € | |
| Host family with Breakfast (Twin room) | | 1.900 € | 3.695 € | 5.396 € | 6.995 € | 8.744 € | |
| Host Family with Half board (Single room) | | 1.994 € | 3.883 € | 5.678 € | 7.370 € | 9.213 € | |
| Host Family with Half board (Twin room) | | 1.946 € | 3.788 € | 5.535 € | 7.180 € | 8.975 € | |
| Junior Host Family with Half board (Single room) (14-17 year olds) | | 2.010 € | 3.915 € | 5.726 € | 7.435 € | 9.294 € | |
| Junior Host Family with Half board (Twin room) (14-17 year olds) | | 1.960 € | 3.815 € | 5.576 € | 7.235 € | 9.044 € | |
| Student Residence with Half board (Single room) | | 2.055 € | 4.005 € | 5.861 € | 7.615 € | 9.375 € | |
| Student Residence with Half board (Single room ensuite) | | 2.139 € | 4.173 € | 6.113 € | 7.950 € | 9.750 € | |
| Residence Self-catering (Single room ensuite) | | 2.195 € | 4.285 € | 6.281 € | 8.175 € | 10.219 € | |
Course Dates and Info
National holidays: 02.01.2023 , 07.04.2023 , 10.04.2023 , 01.05.2023 , 29.05.2023 , 15.08.2023 , 25.12.2023 , 26.12.2023
Starting dates: Start every Monday
Starting dates beginners: 09.01.2023 , 27.03.2023 , 24.07.2023 , 25.09.2023
Starting dates English for Teachers: 09.01.2023 , 24.07.2023
Starting dates Exam Preparation courses FCE: 02.01.2023 , 16.01.2023 , 13.03.2023 , 10.04.2023 , 11.09.2023 , 09.10.2023
Starting dates Exam Preparation courses (CAE): 13.03.2023 , 10.04.2023 , 11.09.2023 , 09.10.2023
SR - Single room; DR - Twin/double room