Consistently rated as one of the top three places in the world to live, Vancouver is surrounded by the Pacific Ocean and the Coastal Mountain Range. EC Vancouver is located in a landmark building in the centre of this incredibly picturesque city, with large, airy classrooms offering lots of natural light.
Location
Attractions, shopping, outdoor activities - everything you want to do and see is within walking distance
Located in Downtown Vancouver.
Yaletown and Chinatown nearby.
Excellent for public transport.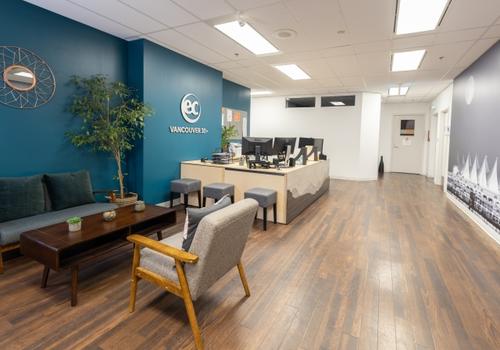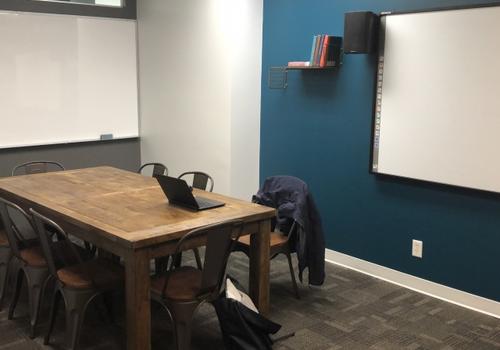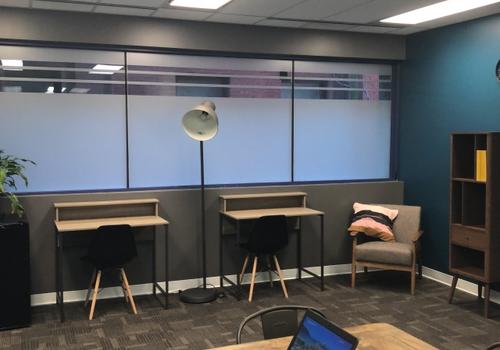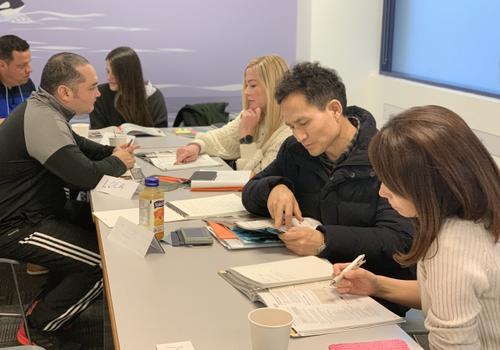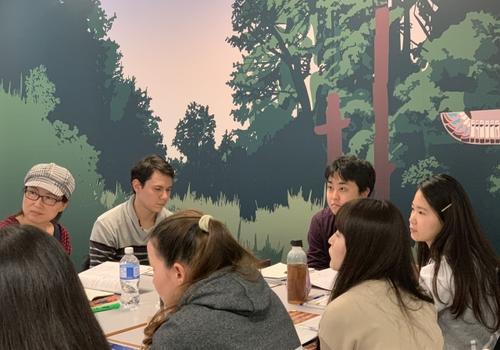 School Prices
---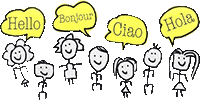 All course prices include: Courses as described, placement test and course certificate, course book, a welcome event and welcome pack, activity program and additional workshops, free internet access (including wireless), library
Tip: The longer the course, the cheaper the price per week!
| | << | 1 we.. | 2 we.. | 3 we.. | 4 we.. | 5 we.. | >> |
| --- | --- | --- | --- | --- | --- | --- | --- |
| Standard English Course (20 lessons/week) | | 331.5 € | 663 € | 994.5 € | 1326 € | 1657.5 € | |
| Host Family with Half board (Single room) | | 591 € | 1.182 € | 1.772 € | 2.363 € | 2.954 € | |
| Host Family with Half board (Twin room) | | 578 € | 1.156 € | 1.734 € | 2.312 € | 2.890 € | |
| Shared Apartment Self-catering (Single room) | | 778 € | 1.556 € | 2.333 € | 3.111 € | 3.889 € | |
| Shared Apartment Self-catering (Twin room) | | 672 € | 1.343 € | 2.015 € | 2.686 € | 3.358 € | |
| Semi Intensive English Course (24 lessons/week) | | 361.25 € | 722.5 € | 1083.75 € | 1445 € | 1806.25 € | |
| Host Family with Half board (Single room) | | 621 € | 1.241 € | 1.862 € | 2.482 € | 3.103 € | |
| Host Family with Half board (Twin room) | | 608 € | 1.216 € | 1.823 € | 2.431 € | 3.039 € | |
| Shared Apartment Self-catering (Single room) | | 808 € | 1.615 € | 2.423 € | 3.230 € | 4.038 € | |
| Shared Apartment Self-catering (Twin room) | | 701 € | 1.403 € | 2.104 € | 2.805 € | 3.506 € | |
| Intensive English Course (30 lessons/week) | | 395.25 € | 790.5 € | 1185.75 € | 1581 € | 1976.25 € | |
| Host Family with Half board (Single room) | | 655 € | 1.309 € | 1.964 € | 2.618 € | 3.273 € | |
| Host Family with Half board (Twin room) | | 642 € | 1.284 € | 1.925 € | 2.567 € | 3.209 € | |
| Shared Apartment Self-catering (Single room) | | 842 € | 1.683 € | 2.525 € | 3.366 € | 4.208 € | |
| Shared Apartment Self-catering (Twin room) | | 735 € | 1.471 € | 2.206 € | 2.941 € | 3.676 € | |
| Business English Course (24 lessons/week) | | 361.25 € | 722.5 € | 1083.75 € | 1445 € | 1806.25 € | |
| Host Family with Half board (Single room) | | 621 € | 1.241 € | 1.862 € | 2.482 € | 3.103 € | |
| Host Family with Half board (Twin room) | | 608 € | 1.216 € | 1.823 € | 2.431 € | 3.039 € | |
| Shared Apartment Self-catering (Single room) | | 808 € | 1.615 € | 2.423 € | 3.230 € | 4.038 € | |
| Shared Apartment Self-catering (Twin room) | | 701 € | 1.403 € | 2.104 € | 2.805 € | 3.506 € | |
| English in the City (20 + 4 lessons/week) | | 361.25 € | 722.5 € | 1083.75 € | 1445 € | -- | |
| Host Family with Half board (Single room) | | 621 € | 1.241 € | 1.862 € | 2.482 € | -- | |
| Host Family with Half board (Twin room) | | 608 € | 1.216 € | 1.823 € | 2.431 € | -- | |
| Shared Apartment Self-catering (Single room) | | 808 € | 1.615 € | 2.423 € | 3.230 € | -- | |
| Shared Apartment Self-catering (Twin room) | | 701 € | 1.403 € | 2.104 € | 2.805 € | -- | |
| Cambridge Exam Course (30 lessons/week) | | -- | -- | -- | -- | -- | |
| Host Family with Half board (Single room) | | -- | -- | -- | -- | -- | |
| Host Family with Half board (Twin room) | | -- | -- | -- | -- | -- | |
| Shared Apartment Self-catering (Single room) | | -- | -- | -- | -- | -- | |
| Shared Apartment Self-catering (Twin room) | | -- | -- | -- | -- | -- | |
| Private English Course (20 lessons/week) | | 2635 € | 5270 € | 7905 € | 10540 € | 13175 € | |
| Host Family with Half board (Single room) | | 2.894 € | 5.789 € | 8.683 € | 11.577 € | 14.471 € | |
| Host Family with Half board (Twin room) | | 2.882 € | 5.763 € | 8.645 € | 11.526 € | 14.408 € | |
| Shared Apartment Self-catering (Single room) | | 3.081 € | 6.163 € | 9.244 € | 12.325 € | 15.406 € | |
| Shared Apartment Self-catering (Twin room) | | 2.975 € | 5.950 € | 8.925 € | 11.900 € | 14.875 € | |
| Private English Course (30 lessons/week) | | 3952.5 € | 7905 € | 11857.5 € | 15810 € | 19762.5 € | |
| Host Family with Half board (Single room) | | 4.212 € | 8.424 € | 12.635 € | 16.847 € | 21.059 € | |
| Host Family with Half board (Twin room) | | 4.199 € | 8.398 € | 12.597 € | 16.796 € | 20.995 € | |
| Shared Apartment Self-catering (Single room) | | 4.399 € | 8.798 € | 13.196 € | 17.595 € | 21.994 € | |
| Shared Apartment Self-catering (Twin room) | | 4.293 € | 8.585 € | 12.878 € | 17.170 € | 21.463 € | |
Course Dates and Info
National holidays: 02.01.2023 , 20.02.2023 , 07.04.2023 , 22.05.2023 , 03.07.2023 , 07.08.2023 , 04.09.2023 , 09.10.2023 , 10.11.2023 , 25.12.2023 , 26.12.2023
Starting dates: Start every Monday
Starting dates Exam Preparation courses FCE: 02.01.2023 , 27.03.2023 , 18.09.2023
Starting dates Exam Preparation courses (CAE): 02.01.2023 , 27.03.2023 , 19.06.2023 , 18.09.2023
Starting dates Exam Preparation courses CPE: 02.01.2023 , 18.09.2023
SR - Single room; DR - Twin/double room
Registration fee of the language school (119€); Accommodation Placement Fee (195.5€); Your advantage with Linguago: No fees! (-314.5€)
Accommodation
---
Host family
---
Stay with a Local Host Family - Single or Twin room with a shared or private bathroom
Half Board (breakfast & dinner)
Bed linen provided
Free Wifi facilities

---
Placement Fee: 215.00
Minimum Age: 16
Mandatory Transfer: No
Accommodation Type: Host family
Board: Half Board
Bathroom type: private bathroom, shared bathroom
Room type: Single room, Double room
Residence
---
VIVA Tower Residence
This is a brand new, well-organized residence with incredible views of Downtown Vancouver. A number of apartments also offer partial views of the sea…
read more

---
Placement Fee: 215.00
Minimum Age: 19
Mandatory Transfer: No
Accommodation Type: Residence
Board: Self-catering
Bathroom type: shared bathroom
Room type: Single room, Double room
Residence
---
Superior APT Living Residence
This modern accommodation option offers you a sense of community and a great opportunity to meet new people and share experiences. With the…
read more

---
Placement Fee: 215.00
Minimum Age: 19
Mandatory Transfer: No
Accommodation Type: Residence
Board: Self-catering
Bathroom type: private bathroom
Room type: Single room