Faneuil Hall is one of the most important sites in US history, and today the most vibrant area in America's academic heartland. This ultra-modern school is just minutes from the waterfront, amongst shops, restaurants and attractions.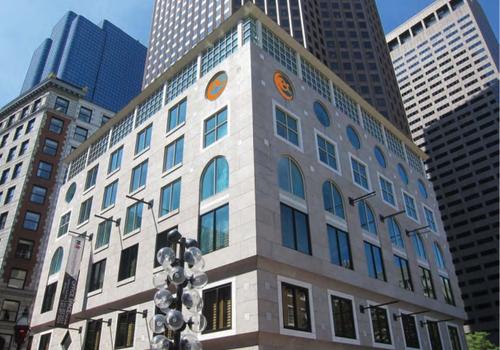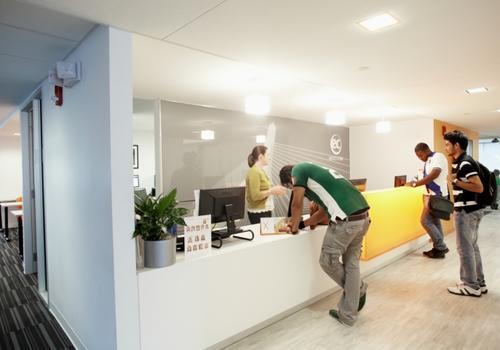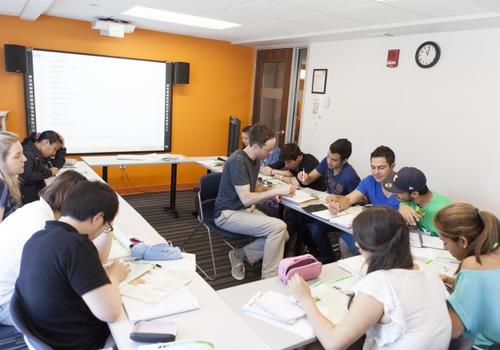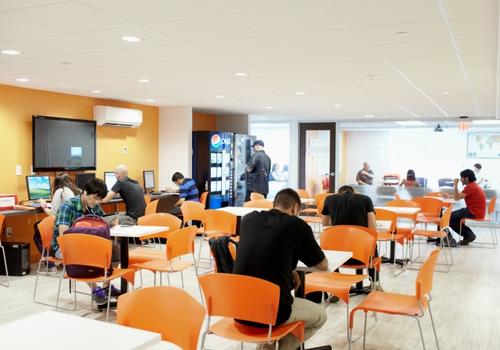 School Prices
---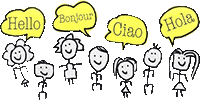 All course prices include: The course as described, a placement test and course certificate, course book, welcome pack, activity program, free Internet (also WLAN), library.
Tip: The longer the course, the cheaper the price per week!
| | << | 1 we.. | 2 we.. | 3 we.. | 4 we.. | 5 we.. | >> |
| --- | --- | --- | --- | --- | --- | --- | --- |
| Standard English Course (20 lessons/week) | | 491.4 € | 982.8 € | 1474.2 € | 1965.6 € | 2457 € | |
| Host Family with Half board (Single room) | | 923 € | 1.847 € | 2.770 € | 3.694 € | 4.617 € | |
| Host Family with Half board (Twin room) | | 859 € | 1.717 € | 2.576 € | 3.434 € | 4.293 € | |
| Residence with Half board (Single room) | | 1.544 € | 3.089 € | 4.633 € | 6.178 € | 7.722 € | |
| Residence with Half board (Shared Room) | | 1.112 € | 2.225 € | 3.337 € | 4.450 € | 5.562 € | |
| Semi Intensive English Course (24 lessons/week) | | 556.2 € | 1112.4 € | 1668.6 € | 2224.8 € | 2781 € | |
| Host Family with Half board (Single room) | | 988 € | 1.976 € | 2.965 € | 3.953 € | 4.941 € | |
| Host Family with Half board (Twin room) | | 923 € | 1.847 € | 2.770 € | 3.694 € | 4.617 € | |
| Residence with Half board (Single room) | | 1.609 € | 3.218 € | 4.828 € | 6.437 € | 8.046 € | |
| Residence with Half board (Shared Room) | | 1.177 € | 2.354 € | 3.532 € | 4.709 € | 5.886 € | |
| Intensive English Course (30 lessons/week) | | 631.8 € | 1263.6 € | 1895.4 € | 2527.2 € | 3159 € | |
| Host Family with Half board (Single room) | | 1.064 € | 2.128 € | 3.191 € | 4.255 € | 5.319 € | |
| Host Family with Half board (Twin room) | | 999 € | 1.998 € | 2.997 € | 3.996 € | 4.995 € | |
| Residence with Half board (Single room) | | 1.685 € | 3.370 € | 5.054 € | 6.739 € | 8.424 € | |
| Residence with Half board (Shared Room) | | 1.253 € | 2.506 € | 3.758 € | 5.011 € | 6.264 € | |
| Business English Course (24 lessons/week) | | 556.2 € | 1112.4 € | 1668.6 € | 2224.8 € | 2781 € | |
| Host Family with Half board (Single room) | | 988 € | 1.976 € | 2.965 € | 3.953 € | 4.941 € | |
| Host Family with Half board (Twin room) | | 923 € | 1.847 € | 2.770 € | 3.694 € | 4.617 € | |
| Residence with Half board (Single room) | | 1.609 € | 3.218 € | 4.828 € | 6.437 € | 8.046 € | |
| Residence with Half board (Shared Room) | | 1.177 € | 2.354 € | 3.532 € | 4.709 € | 5.886 € | |
| Private English Course (20 hrs/week) | | 2916 € | 5832 € | 8748 € | 11664 € | 14580 € | |
| Host Family with Half board (Single room) | | 3.348 € | 6.696 € | 10.044 € | 13.392 € | 16.740 € | |
| Host Family with Half board (Twin room) | | 3.283 € | 6.566 € | 9.850 € | 13.133 € | 16.416 € | |
| Residence with Half board (Single room) | | 3.969 € | 7.938 € | 11.907 € | 15.876 € | 19.845 € | |
| Residence with Half board (Shared Room) | | 3.537 € | 7.074 € | 10.611 € | 14.148 € | 17.685 € | |
| Private English Course (30 hrs/week) | | 4374 € | 8748 € | 13122 € | 17496 € | 21870 € | |
| Host Family with Half board (Single room) | | 4.806 € | 9.612 € | 14.418 € | 19.224 € | 24.030 € | |
| Host Family with Half board (Twin room) | | 4.741 € | 9.482 € | 14.224 € | 18.965 € | 23.706 € | |
| Residence with Half board (Single room) | | 5.427 € | 10.854 € | 16.281 € | 21.708 € | 27.135 € | |
| Residence with Half board (Shared Room) | | 4.995 € | 9.990 € | 14.985 € | 19.980 € | 24.975 € | |
Course Dates and Info
National holidays: 02.01.2023 , 16.01.2023 , 20.02.2023 , 17.04.2023 , 29.05.2023 , 20.06.2023 , 04.07.2023 , 05.09.2023 , 09.10.2023 , 10.11.2023 , 23.11.2023 , 24.11.2023 , 25.12.2023
Starting dates: Start every Monday
SR - Single room; DR - Twin/double room; SHR - Shared room
Registration fee of the language school (183.6€); Accommodation Placement Fee (102.6€); Your advantage with Linguago: No fees! (-286.2€)
Accommodation
---
Host family
---
Host families provide the best insight into how an American family leads their life. This interaction with a family helps students communicate better, faster and allows them to pick up words and…
read more

---
Placement Fee: 85.00
Minimum Age: 16
Maximum number of students per room: 2
Mandatory Transfer: No
Accommodation Type: Host family
Board: Half Board
Bathroom type: shared bathroom
Room type: Single room, Double room
Residence
---
EC Boston's North End Endicott Apartment boasts two beautiful bedrooms with a quaint living area and open kitchen area to enjoy with EC friends. The apartment offers a fully equipped kitchen…
read more

---
Placement Fee: 85.00
Minimum Age: 18
Maximum number of students per room: 1
Mandatory Transfer: No
Accommodation Type: Residence
Board: Self-catering
Bathroom type: private bathroom, shared bathroom
Room type: Single room, Double room
Studio Apartment
---
The 1059 Saratoga Street apartment consists of 4 single bedrooms, two beautiful, updated bathrooms, a common area with comfortable seating and a reading nook, as well as a shared kitchen with…
read more
---
Placement Fee: 85.00
Minimum Age: 18
Maximum number of students per room: 1
Mandatory Transfer: No
Accommodation Type: Studio Apartment
Board: Self-catering
Bathroom type: shared bathroom
Room type: Multi-bed room