At Europass Italian Language School we pride ourselves on our teaching philosophy of 'personal and professional', which we believe creates a supportive and fun educational environment for all of our students.
Our personable and enthusiastic teaching staff allows for a fulfilling and effective learning experience tailored to the individual level and needs of each pupil, from total beginners to post-intermediate students and a result we believe Europass is the perfect environment to travel and broaden your horizons by learning the world's most romantic language in the beautiful and culturally rich city of Florence!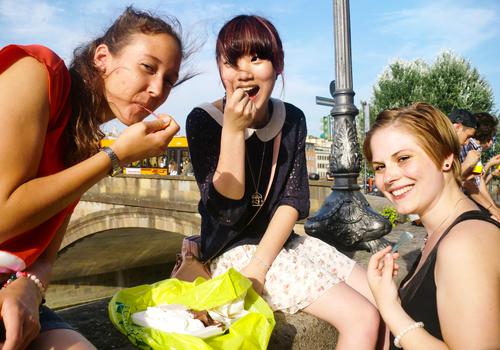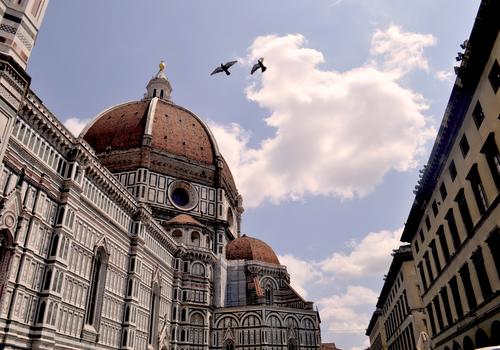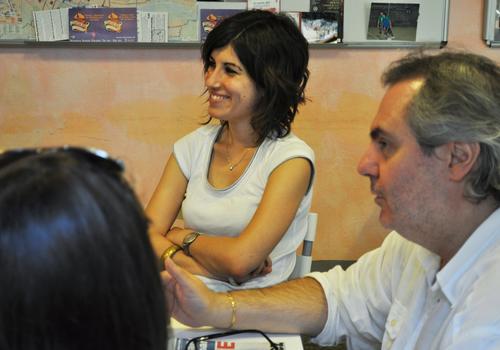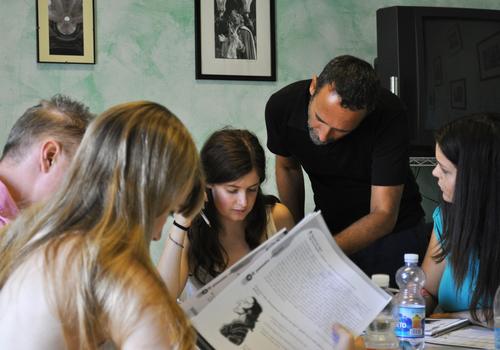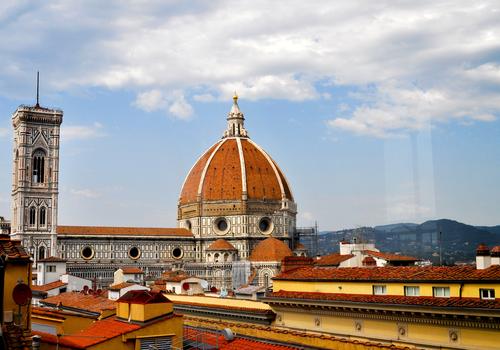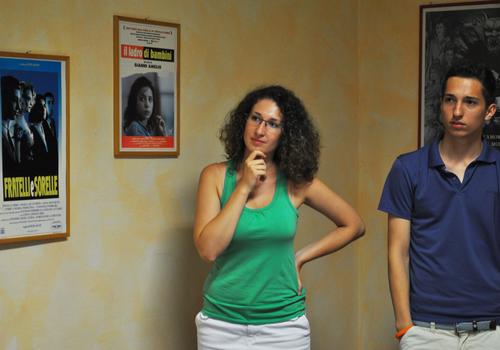 School Prices
---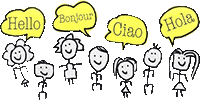 All course prices include: Courses as described, placement test and talk on the first day, course certificate, teaching materials, information and guidance about Florence on arrival, organization of activity program, free internet access (WLAN), a library, a video library.
Tip: The longer the course, the cheaper the price per week!
01.01.2023 - 01.12.2023 (01.01.2023 - 01.12.2023)
<<
1 we..
2 we..
3 we..
4 we..
5 we..
>>
Standard Italian Course (20 lessons/week)
240 €
480 €
600 €
800 €
1000 €
Shared Apartment – SC (single room)

440 €

810 €

1.070 €

1.420 €

2.320 €

Shared Apartment – SC (twin room)

390 €

725 €

950 €

1.245 €

1.970 €

Shared Apartment *Central* – SC (single room)

460 €

870 €

1.150 €

1.480 €

2.505 €

Shared Apartment *Central* – SC (twin room)

415 €

765 €

1.010 €

1.330 €

2.155 €

Homestay – BB (single room)

470 €

891 €

1.210 €

1.610 €

2.760 €

Homestay – BB (twin room)

415 €

790 €

1.070 €

1.405 €

2.340 €

Homestay – HB (single room)

530 €

1.020 €

1.410 €

1.880 €

3.375 €

Homestay – HB (twin room)

480 €

925 €

1.270 €

1.675 €

2.960 €

Intensive Italian Course (30 lessons/week)
360 €
720 €
900 €
1200 €
1500 €
Shared Apartment – SC (single room)

560 €

1.050 €

1.370 €

1.820 €

2.820 €

Shared Apartment – SC (twin room)

510 €

965 €

1.250 €

1.645 €

2.470 €

Shared Apartment *Central* – SC (single room)

580 €

1.110 €

1.450 €

1.880 €

3.005 €

Shared Apartment *Central* – SC (twin room)

535 €

1.005 €

1.310 €

1.730 €

2.655 €

Homestay – BB (single room)

590 €

1.131 €

1.510 €

2.010 €

3.260 €

Homestay – BB (twin room)

535 €

1.030 €

1.370 €

1.805 €

2.840 €

Homestay – HB (single room)

650 €

1.260 €

1.710 €

2.280 €

3.875 €

Homestay – HB (twin room)

600 €

1.165 €

1.570 €

2.075 €

3.460 €

Group classes - Super Intensive course
420 €
840 €
--
--
--
Shared Apartment – SC (single room)

620 €

1.170 €

--
--
--
Shared Apartment – SC (twin room)

570 €

1.085 €

--
--
--
Shared Apartment *Central* – SC (single room)

640 €

1.230 €

--
--
--
Shared Apartment *Central* – SC (twin room)

595 €

1.125 €

--
--
--
Homestay – BB (single room)

650 €

1.251 €

--
--
--
Homestay – BB (twin room)

595 €

1.150 €

--
--
--
Homestay – HB (single room)

710 €

1.380 €

--
--
--
Homestay – HB (twin room)

660 €

1.285 €

--
--
--
Combined Italian Course (20 + 10 lessons/week)
640 €
1280 €
1800 €
2400 €
--
Shared Apartment – SC (single room)

840 €

1.610 €

2.270 €

3.020 €

--
Shared Apartment – SC (twin room)

790 €

1.525 €

2.150 €

2.845 €

--
Shared Apartment *Central* – SC (single room)

860 €

1.670 €

2.350 €

3.080 €

--
Shared Apartment *Central* – SC (twin room)

815 €

1.565 €

2.210 €

2.930 €

--
Homestay – BB (single room)

870 €

1.691 €

2.410 €

3.210 €

--
Homestay – BB (twin room)

815 €

1.590 €

2.270 €

3.005 €

--
Homestay – HB (single room)

930 €

1.820 €

2.610 €

3.480 €

--
Homestay – HB (twin room)

880 €

1.725 €

2.470 €

3.275 €

--
Italian & Culture (20 lessons + activities/week)
280 €
560 €
800 €
1040 €
1280 €
Shared Apartment – SC (single room)

480 €

890 €

1.270 €

1.660 €

2.600 €

Shared Apartment – SC (twin room)

430 €

805 €

1.150 €

1.485 €

2.250 €

Shared Apartment *Central* – SC (single room)

500 €

950 €

1.350 €

1.720 €

2.785 €

Shared Apartment *Central* – SC (twin room)

455 €

845 €

1.210 €

1.570 €

2.435 €

Homestay – BB (single room)

510 €

971 €

1.410 €

1.850 €

3.040 €

Homestay – BB (twin room)

455 €

870 €

1.270 €

1.645 €

2.620 €

Homestay – HB (single room)

570 €

1.100 €

1.610 €

2.120 €

3.655 €

Homestay – HB (twin room)

520 €

1.005 €

1.470 €

1.915 €

3.240 €

Italian & Cooking (26 lessons/week)
520 €
1040 €
1520 €
2000 €
2480 €
Shared Apartment – SC (single room)

720 €

1.370 €

1.990 €

2.620 €

3.800 €

Shared Apartment – SC (twin room)

670 €

1.285 €

1.870 €

2.445 €

3.450 €

Shared Apartment *Central* – SC (single room)

740 €

1.430 €

2.070 €

2.680 €

3.985 €

Shared Apartment *Central* – SC (twin room)

695 €

1.325 €

1.930 €

2.530 €

3.635 €

Homestay – BB (single room)

750 €

1.451 €

2.130 €

2.810 €

4.240 €

Homestay – BB (twin room)

695 €

1.350 €

1.990 €

2.605 €

3.820 €

Homestay – HB (single room)

810 €

1.580 €

2.330 €

3.080 €

4.855 €

Homestay – HB (twin room)

760 €

1.485 €

2.190 €

2.875 €

4.440 €

Private Italian Course (20 lessons/week)
800 €
1600 €
2400 €
3200 €
4000 €
Shared Apartment – SC (single room)

1.000 €

1.930 €

2.870 €

3.820 €

5.320 €

Shared Apartment – SC (twin room)

950 €

1.845 €

2.750 €

3.645 €

4.970 €

Shared Apartment *Central* – SC (single room)

1.020 €

1.990 €

2.950 €

3.880 €

5.505 €

Shared Apartment *Central* – SC (twin room)

975 €

1.885 €

2.810 €

3.730 €

5.155 €

Homestay – BB (single room)

1.030 €

2.011 €

3.010 €

4.010 €

5.760 €

Homestay – BB (twin room)

975 €

1.910 €

2.870 €

3.805 €

5.340 €

Homestay – HB (single room)

1.090 €

2.140 €

3.210 €

4.280 €

6.375 €

Homestay – HB (twin room)

1.040 €

2.045 €

3.070 €

4.075 €

5.960 €

Private Italian Course (30 lessons/week)
1200 €
2400 €
3600 €
4800 €
6000 €
Shared Apartment – SC (single room)

1.400 €

2.730 €

4.070 €

5.420 €

7.320 €

Shared Apartment – SC (twin room)

1.350 €

2.645 €

3.950 €

5.245 €

6.970 €

Shared Apartment *Central* – SC (single room)

1.420 €

2.790 €

4.150 €

5.480 €

7.505 €

Shared Apartment *Central* – SC (twin room)

1.375 €

2.685 €

4.010 €

5.330 €

7.155 €

Homestay – BB (single room)

1.430 €

2.811 €

4.210 €

5.610 €

7.760 €

Homestay – BB (twin room)

1.375 €

2.710 €

4.070 €

5.405 €

7.340 €

Homestay – HB (single room)

1.490 €

2.940 €

4.410 €

5.880 €

8.375 €

Homestay – HB (twin room)

1.440 €

2.845 €

4.270 €

5.675 €

7.960 €

Additional Private Tuition (5 lessons/week)
200 €
400 €
600 €
800 €
1000 €
Shared Apartment – SC (single room)

400 €

730 €

1.070 €

1.420 €

2.320 €

Shared Apartment – SC (twin room)

350 €

645 €

950 €

1.245 €

1.970 €

Shared Apartment *Central* – SC (single room)

420 €

790 €

1.150 €

1.480 €

2.505 €

Shared Apartment *Central* – SC (twin room)

375 €

685 €

1.010 €

1.330 €

2.155 €

Homestay – BB (single room)

430 €

811 €

1.210 €

1.610 €

2.760 €

Homestay – BB (twin room)

375 €

710 €

1.070 €

1.405 €

2.340 €

Homestay – HB (single room)

490 €

940 €

1.410 €

1.880 €

3.375 €

Homestay – HB (twin room)

440 €

845 €

1.270 €

1.675 €

2.960 €

Additional Private Tuition (10 lessons/week)
400 €
800 €
1200 €
1600 €
2000 €
Shared Apartment – SC (single room)

600 €

1.130 €

1.670 €

2.220 €

3.320 €

Shared Apartment – SC (twin room)

550 €

1.045 €

1.550 €

2.045 €

2.970 €

Shared Apartment *Central* – SC (single room)

620 €

1.190 €

1.750 €

2.280 €

3.505 €

Shared Apartment *Central* – SC (twin room)

575 €

1.085 €

1.610 €

2.130 €

3.155 €

Homestay – BB (single room)

630 €

1.211 €

1.810 €

2.410 €

3.760 €

Homestay – BB (twin room)

575 €

1.110 €

1.670 €

2.205 €

3.340 €

Homestay – HB (single room)

690 €

1.340 €

2.010 €

2.680 €

4.375 €

Homestay – HB (twin room)

640 €

1.245 €

1.870 €

2.475 €

3.960 €
Course Dates and Info
Starting dates: Start every Monday
Starting dates beginners: 09.01.2023 , 23.01.2023 , 06.02.2023 , 20.02.2023 , 06.03.2023 , 20.03.2023 , 03.04.2023 , 17.04.2023 , 01.05.2023 , 15.05.2023 , 05.06.2023 , 19.06.2023 , 03.07.2023 , 17.07.2023 , 07.08.2023 , 21.08.2023 , 04.09.2023 , 18.09.2023 , 02.10.2023 , 16.10.2023 , 30.10.2023 , 13.11.2023 , 27.11.2023
National holidays: 10.04.2023 , 01.05.2023 , 15.08.2023 , 01.11.2023
- ; SR - Single room; DR - Twin/double room
Accommodation
---
Host family
---
Living with a host family provides you with the unique opportunity to get an authentic insight into the lifestyle and customs of Italian people. It is also a great chance to make friends and…
read more

---
Placement Fee: 220.00
Minimum Age: 14
Maximum number of students per room: 2
Mandatory Transfer: No
Accommodation Type: Host family
Board: Bed and Breakfast, Half Board
Bathroom type: shared bathroom
Room type: Single room
Shared Apartment
---
This accommodation option is perfect for those who wish to make friends with international students and benefit from their own independence, as it allows you to cook for yourself and have your own…
read more

---
Minimum Age: 16
Maximum number of students per room: 2
Mandatory Transfer: No
Accommodation Type: Shared Apartment
Board: Self-catering
Bathroom type: shared bathroom
Room type: Single room, Double room
Private Apartment
---
This type of accommodation is well suited to those who love to be independent and to live in comfort.

There are studios and two-room apartments available. They are usually situated…
read more

---
Minimum Age: 16
Maximum number of students per room: 2
Mandatory Transfer: No
Accommodation Type: Private Apartment
Board: Self-catering
Bathroom type: private bathroom
Room type: Double room