EC Cambridge is one of the only language schools in the heart of this beautiful and world-class academic city. Spacious, bright and friendly, the school is situated in a very modern building adjacent to one of Cambridge's main shopping areas.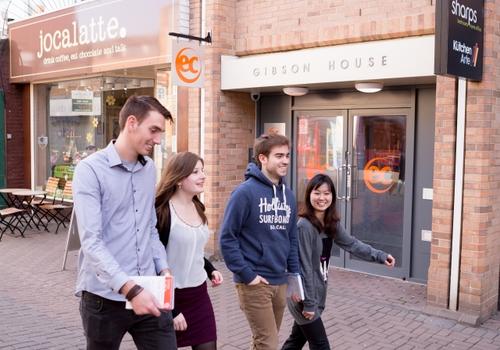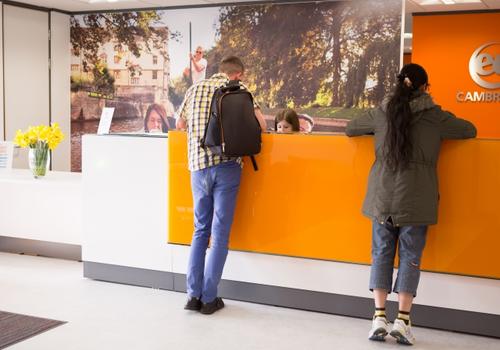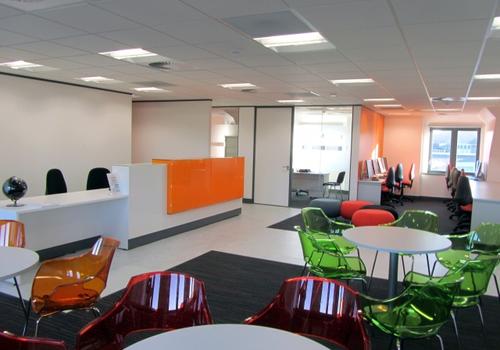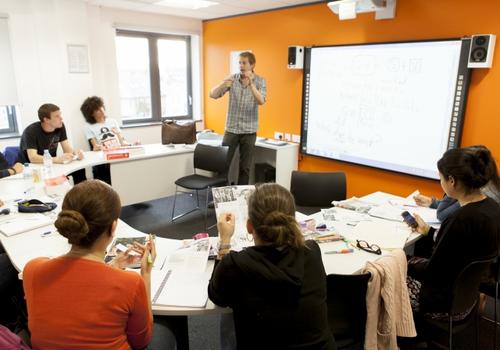 School Prices
---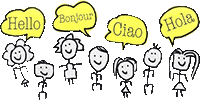 All course prices include: Courses as described, placement test and course certificate, course materials (except Cambridge Courses), course book with deposit, information, leisure program (not including admission prices), free internet access, computer room and library.
Tip: The longer the course, the cheaper the price per week!
| | << | 1 we.. | 2 we.. | 3 we.. | 4 we.. | 5 we.. | >> |
| --- | --- | --- | --- | --- | --- | --- | --- |
| Standard English Course (20 lessons/week) | | 412.5 € | 825 € | 1237.5 € | 1650 € | 2062.5 € | |
| Host Family with Breakfast (Single room) | | 656 € | 1.313 € | 1.969 € | 2.625 € | 3.281 € | |
| Host family with Breakfast (Twin room) | | 631 € | 1.263 € | 1.894 € | 2.525 € | 3.156 € | |
| Host Family with Half board (Single room) | | 688 € | 1.375 € | 2.063 € | 2.750 € | 3.438 € | |
| Host Family with Half board (Twin room) | | 663 € | 1.325 € | 1.988 € | 2.650 € | 3.313 € | |
| Superior Host Family with Breakfast (Single room ensuite) | | 769 € | 1.538 € | 2.306 € | 3.075 € | 3.844 € | |
| Superior Host Family with Half board (Single room ensuite) | | 794 € | 1.588 € | 2.381 € | 3.175 € | 3.969 € | |
| Residence Self-catering (Single room ensuite) | | 863 € | 1.725 € | 2.588 € | 3.450 € | 4.313 € | |
| Private English Course (20 lessons/week) | | 3375 € | 6750 € | 10125 € | 13500 € | 16875 € | |
| Host Family with Breakfast (Single room) | | 3.619 € | 7.238 € | 10.856 € | 14.475 € | 18.094 € | |
| Host family with Breakfast (Twin room) | | 3.594 € | 7.188 € | 10.781 € | 14.375 € | 17.969 € | |
| Host Family with Half board (Single room) | | 3.650 € | 7.300 € | 10.950 € | 14.600 € | 18.250 € | |
| Host Family with Half board (Twin room) | | 3.625 € | 7.250 € | 10.875 € | 14.500 € | 18.125 € | |
| Superior Host Family with Breakfast (Single room ensuite) | | 3.731 € | 7.463 € | 11.194 € | 14.925 € | 18.656 € | |
| Superior Host Family with Half board (Single room ensuite) | | 3.756 € | 7.513 € | 11.269 € | 15.025 € | 18.781 € | |
| Residence Self-catering (Single room ensuite) | | 3.825 € | 7.650 € | 11.475 € | 15.300 € | 19.125 € | |
| Private English Course (30 lessons/week) | | 5062.5 € | 10125 € | 15187.5 € | 20250 € | 25312.5 € | |
| Host Family with Breakfast (Single room) | | 5.306 € | 10.613 € | 15.919 € | 21.225 € | 26.531 € | |
| Host family with Breakfast (Twin room) | | 5.281 € | 10.563 € | 15.844 € | 21.125 € | 26.406 € | |
| Host Family with Half board (Single room) | | 5.338 € | 10.675 € | 16.013 € | 21.350 € | 26.688 € | |
| Host Family with Half board (Twin room) | | 5.313 € | 10.625 € | 15.938 € | 21.250 € | 26.563 € | |
| Superior Host Family with Breakfast (Single room ensuite) | | 5.419 € | 10.838 € | 16.256 € | 21.675 € | 27.094 € | |
| Superior Host Family with Half board (Single room ensuite) | | 5.444 € | 10.888 € | 16.331 € | 21.775 € | 27.219 € | |
| Residence Self-catering (Single room ensuite) | | 5.513 € | 11.025 € | 16.538 € | 22.050 € | 27.563 € | |
Course Dates and Info
National holidays: 02.01.2023 , 07.04.2023 , 10.04.2023 , 01.05.2023 , 29.05.2023 , 28.08.2023 , 25.12.2023 , 26.12.2023
Starting dates: Start every Monday
SR - Single room; DR - Twin/double room