Maltalingua School of English is an internationally accredited, multiple award-winning school situated in the picturesque vibrant bay of St. Julian's in Malta. Maltalingua offers high-quality English language courses as well as complete packages with activities, social excursions,s and a wide variety of accommodation. The school provides attractive modern classrooms, studios, a lending library, free Wi-Fi, a reception area, and a chill-out room. The biggest attraction in the School is the large roof and the swimming pool. Maltalingua is a fully accredited member of EAQUALS, the prestigious award for Excellence in Language Education. Our school offers courses for adults throughout the year.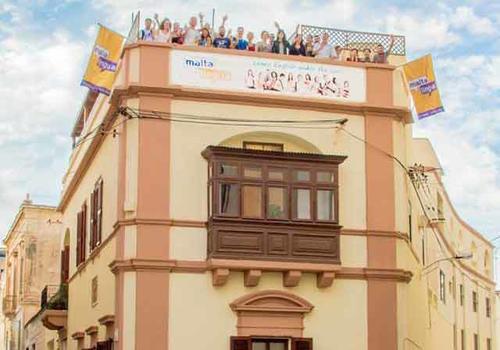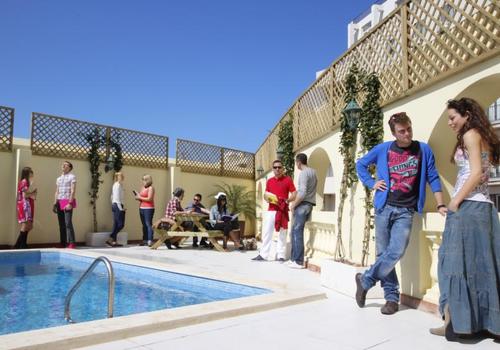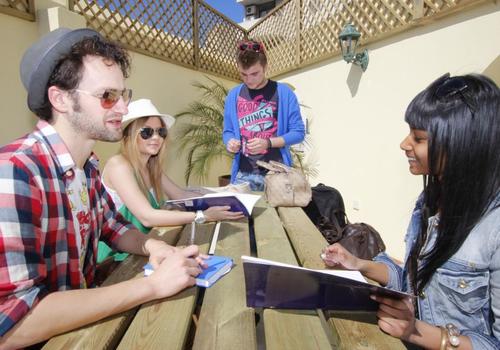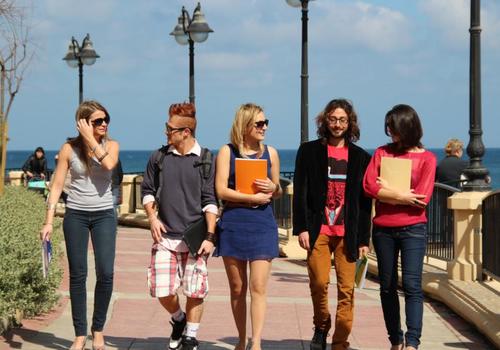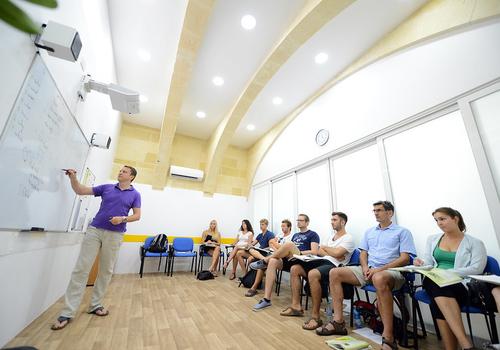 School Prices
---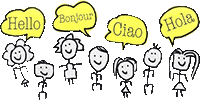 All course prices include: Courses as described, all course teaching material, placement test and certificate, Internet studio and free Wi-Fi, optional daily activity programme, 24/7 customer service with emergency phone, student discount card for local shops and restaurants, free use of DVDs and reading books, use of school swimming pool (weather permitting), Monday welcome party with Maltese delicacies, great school atmosphere!
Tip: The longer the course, the cheaper the price per week!
| | << | 1 we.. | 2 we.. | 3 we.. | 4 we.. | 5 we.. | >> |
| --- | --- | --- | --- | --- | --- | --- | --- |
| Standard English Course (20 lessons/week) | | 211 € | 396 € | 594 € | 776 € | 970 € | |
| Shared Apartment – SC (single room) | | 470 € | 914 € | 1.371 € | 1.812 € | 2.265 € | |
| Shared Apartment – SC (twin room) | | 393 € | 760 € | 1.140 € | 1.504 € | 1.880 € | |
| Homestay – HB (single room) | | 505 € | 984 € | 1.476 € | 1.952 € | 2.440 € | |
| Homestay – HB (twin room) | | 428 € | 830 € | 1.245 € | 1.644 € | 2.055 € | |
| Superior Homestay – HB (single room) | | 582 € | 1.138 € | 1.707 € | 2.260 € | 2.825 € | |
| Intensive English Course (30 lessons/week) | | 278 € | 520 € | 780 € | 968 € | 1210 € | |
| Shared Apartment – SC (single room) | | 537 € | 1.038 € | 1.557 € | 2.004 € | 2.505 € | |
| Shared Apartment – SC (twin room) | | 460 € | 884 € | 1.326 € | 1.696 € | 2.120 € | |
| Homestay – HB (single room) | | 572 € | 1.108 € | 1.662 € | 2.144 € | 2.680 € | |
| Homestay – HB (twin room) | | 495 € | 954 € | 1.431 € | 1.836 € | 2.295 € | |
| Superior Homestay – HB (single room) | | 649 € | 1.262 € | 1.893 € | 2.452 € | 3.065 € | |
| Standard Business English Course (20 lessons/week) | | 378 € | 722 € | 1083 € | 1356 € | 1695 € | |
| Shared Apartment – SC (single room) | | 637 € | 1.240 € | 1.860 € | 2.392 € | 2.990 € | |
| Shared Apartment – SC (twin room) | | 560 € | 1.086 € | 1.629 € | 2.084 € | 2.605 € | |
| Homestay – HB (single room) | | 672 € | 1.310 € | 1.965 € | 2.532 € | 3.165 € | |
| Homestay – HB (twin room) | | 595 € | 1.156 € | 1.734 € | 2.224 € | 2.780 € | |
| Superior Homestay – HB (single room) | | 749 € | 1.464 € | 2.196 € | 2.840 € | 3.550 € | |
| Intensive Business English Course (30 lessons/week) | | 519 € | 1004 € | 1506 € | 1900 € | 2375 € | |
| Shared Apartment – SC (single room) | | 778 € | 1.522 € | 2.283 € | 2.936 € | 3.670 € | |
| Shared Apartment – SC (twin room) | | 701 € | 1.368 € | 2.052 € | 2.628 € | 3.285 € | |
| Homestay – HB (single room) | | 813 € | 1.592 € | 2.388 € | 3.076 € | 3.845 € | |
| Homestay – HB (twin room) | | 736 € | 1.438 € | 2.157 € | 2.768 € | 3.460 € | |
| Superior Homestay – HB (single room) | | 890 € | 1.746 € | 2.619 € | 3.384 € | 4.230 € | |
| IELTS Exam Course (30 lessons/week) | | 304 € | 564 € | 846 € | 1040 € | 1300 € | |
| Shared Apartment – SC (single room) | | 563 € | 1.082 € | 1.623 € | 2.076 € | 2.595 € | |
| Shared Apartment – SC (twin room) | | 486 € | 928 € | 1.392 € | 1.768 € | 2.210 € | |
| Homestay – HB (single room) | | 598 € | 1.152 € | 1.728 € | 2.216 € | 2.770 € | |
| Homestay – HB (twin room) | | 521 € | 998 € | 1.497 € | 1.908 € | 2.385 € | |
| Superior Homestay – HB (single room) | | 675 € | 1.306 € | 1.959 € | 2.524 € | 3.155 € | |
| Private English Course (20 lessons/week) | | 656 € | 1224 € | 1704 € | 2272 € | 2840 € | |
| Shared Apartment – SC (single room) | | 915 € | 1.742 € | 2.481 € | 3.308 € | 4.135 € | |
| Shared Apartment – SC (twin room) | | 838 € | 1.588 € | 2.250 € | 3.000 € | 3.750 € | |
| Homestay – HB (single room) | | 950 € | 1.812 € | 2.586 € | 3.448 € | 4.310 € | |
| Homestay – HB (twin room) | | 873 € | 1.658 € | 2.355 € | 3.140 € | 3.925 € | |
| Superior Homestay – HB (single room) | | 1.027 € | 1.966 € | 2.817 € | 3.756 € | 4.695 € | |
| Private English Course (30 lessons/week) | | 946 € | 1752 € | 2496 € | 3328 € | 4160 € | |
| Shared Apartment – SC (single room) | | 1.205 € | 2.270 € | 3.273 € | 4.364 € | 5.455 € | |
| Shared Apartment – SC (twin room) | | 1.128 € | 2.116 € | 3.042 € | 4.056 € | 5.070 € | |
| Homestay – HB (single room) | | 1.240 € | 2.340 € | 3.378 € | 4.504 € | 5.630 € | |
| Homestay – HB (twin room) | | 1.163 € | 2.186 € | 3.147 € | 4.196 € | 5.245 € | |
| Superior Homestay – HB (single room) | | 1.317 € | 2.494 € | 3.609 € | 4.812 € | 6.015 € | |
Course Dates and Info
National holidays: 10.02.2023 , 31.03.2023 , 07.04.2023 , 01.05.2023 , 07.06.2023 , 29.06.2023 , 15.08.2023 , 08.09.2023 , 21.09.2023 , 08.12.2023 , 13.12.2023 , 25.12.2023
Starting dates: Start every Monday
SR - Single room; DR - Twin/double room
Accommodation
---
Host family
---
The accommodation in a superior single includes a single room with a private bathroom. Breakfast and dinner are included. Bedlinen is provided by the host family and cleaned once a week; however,…
read more
---
Minimum Age: 16
Maximum number of students per room: 1
Mandatory Transfer: Yes
Accommodation Type: Host family
Board: Self-catering
Bathroom type: private bathroom, shared bathroom
Room type: Single room, Double room
Shared Apartment
---
Our shared apartments are a great way to meet new people and practice the English language. All flats are in good condition and come with Wi-Fi, cable TV, telephone, washing machine and a fully…
read more
---
Minimum Age: 18
Maximum number of students per room: 1
Mandatory Transfer: Yes
Accommodation Type: Shared Apartment
Board: Self-catering
Bathroom type: shared bathroom
Room type: Single room, Double room
Private Apartment
---
Private apartment, self-catering (Up to 3 people)
The private apartments are available on request. This accommodation gives you the opportunity to make your stay…
read more

---
Minimum Age: 18
Maximum number of students per room: 1
Mandatory Transfer: No
Accommodation Type: Private Apartment
Board: Self-catering
Bathroom type: shared bathroom
Room type: Single room, Double room