Our English Path Dubai campus is located in Knowledge Park Block 5, one of the finest education hubs in Dubai. We share the same premises with our higher education sister college, GBS, giving our students a unique experience of studying alongside higher education students. There are many services available within walking distance such as banks, a convenience store, vending machines, pharmacies, MedicClinic, as well as many fast-food restaurants such as Subway, Pizza Hut, KFC, and a Starbucks. There are also many kiosks within Knowledge Park that sell a range of snacks and coffees.
Our highly qualified, professional, and approachable team is here to support you every step of the way, whatever your background or goal. We offer a range of quality courses including General English, Professional English, and Exam Preparation Courses (IELTS and Cambridge). You will also benefit from our Masterclass Programme which is comprised of weekly lectures and workshops. Topics include Academic Writing & Study Skills, Public speaking and Presenting, and a CV Writing Workshop.
We are also very glad to offer you an amazing range of social activities. Joining our activities will help you meet new people, have fun and give you the chance to practice your English. Choose our English language school in Dubai if… you want to improve your English knowledge in one of the fastest-growing and most modern international cities in the world!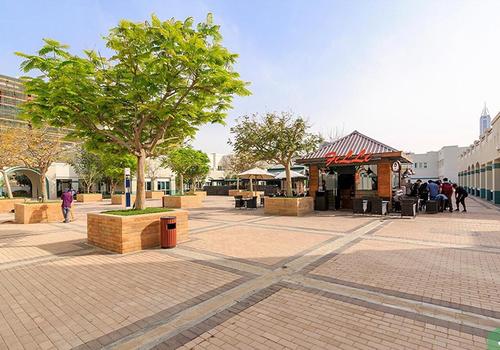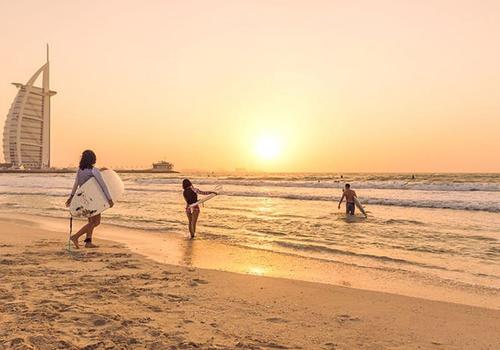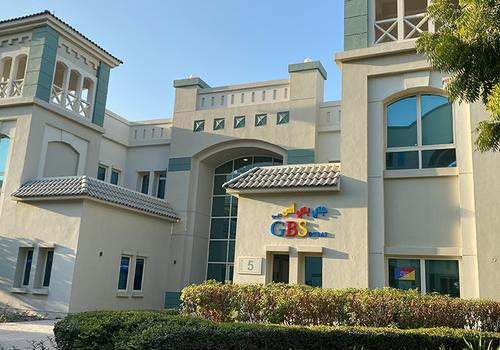 School Prices
---
01.01.2023 - 31.12.2023 (01.01.2023 - 31.12.2023)
| | << | 1 we.. | 2 we.. | 3 we.. | 4 we.. | 5 we.. | >> |
| --- | --- | --- | --- | --- | --- | --- | --- |
| Standard English Course (20 lessons/week) | | 324 € | 648 € | 972 € | 1296 € | 1620 € | |
| Shared Apartment Self-catering (Single room) | | 621 € | 1.242 € | 1.863 € | 2.484 € | 3.105 € | |
| Shared Apartment Self-catering (Twin room) | | 459 € | 918 € | 1.377 € | 1.836 € | 2.295 € | |
| Standard English Course (20 lessons/week) afternoon | | 237.6 € | 475.2 € | 712.8 € | 950.4 € | 1188 € | |
| Shared Apartment Self-catering (Single room) | | 535 € | 1.069 € | 1.604 € | 2.138 € | 2.673 € | |
| Shared Apartment Self-catering (Twin room) | | 373 € | 745 € | 1.118 € | 1.490 € | 1.863 € | |
| Semi-Intensive English Course (25 lessons/week) | | 410.4 € | 820.8 € | 1231.2 € | 1641.6 € | 2052 € | |
| Shared Apartment Self-catering (Single room) | | 707 € | 1.415 € | 2.122 € | 2.830 € | 3.537 € | |
| Shared Apartment Self-catering (Twin room) | | 545 € | 1.091 € | 1.636 € | 2.182 € | 2.727 € | |
| Semi-Intensive English Course (25 lessons/week) afternoon | | 324 € | 648 € | 972 € | 1296 € | 1620 € | |
| Shared Apartment Self-catering (Single room) | | 621 € | 1.242 € | 1.863 € | 2.484 € | 3.105 € | |
| Shared Apartment Self-catering (Twin room) | | 459 € | 918 € | 1.377 € | 1.836 € | 2.295 € | |
| Intensive English Course (40 lessons/week) | | 496.8 € | 993.6 € | 1490.4 € | 1987.2 € | 2484 € | |
| Shared Apartment Self-catering (Single room) | | 794 € | 1.588 € | 2.381 € | 3.175 € | 3.969 € | |
| Shared Apartment Self-catering (Twin room) | | 632 € | 1.264 € | 1.895 € | 2.527 € | 3.159 € | |
| Private English Course (20 lessons/week) | | 1949.4 € | 3898.8 € | 5848.2 € | 7797.6 € | 9747 € | |
| Shared Apartment Self-catering (Single room) | | 2.246 € | 4.493 € | 6.739 € | 8.986 € | 11.232 € | |
| Shared Apartment Self-catering (Twin room) | | 2.084 € | 4.169 € | 6.253 € | 8.338 € | 10.422 € | |
| IELTS Exam Preparation (20 lessons/week) | | 356.4 € | 712.8 € | 1069.2 € | 1425.6 € | 1782 € | |
| Shared Apartment Self-catering (Single room) | | 653 € | 1.307 € | 1.960 € | 2.614 € | 3.267 € | |
| Shared Apartment Self-catering (Twin room) | | 491 € | 983 € | 1.474 € | 1.966 € | 2.457 € | |
| Cambridge Exam Preparation (25 lessons/week) | | -- | -- | -- | -- | -- | |
| Shared Apartment Self-catering (Single room) | | -- | -- | -- | -- | -- | |
| Shared Apartment Self-catering (Twin room) | | -- | -- | -- | -- | -- | |
Course Dates and Info
National holidays: 20.04.2023 , 21.04.2023 , 27.06.2023 , 28.06.2023 , 29.06.2023 , 30.06.2023 , 19.07.2023 , 27.09.2023 , 01.12.2023
Starting dates: Start every Monday
Starting dates Exam Preparation courses FCE: 03.04.2023 , 04.09.2023
Starting dates Exam Preparation courses (CAE): 03.04.2023 , 04.09.2023
SR - Single room; DR - Twin/double room