EC New York is a contemporary space and, in the heart of Times Square, and possibly the most centrally-located school in the Big Apple. With views over the famous billboards, theatres and streets filled with yellow taxis, EC New York is just a few blocks away from world-famous shopping on 5th Avenue, the Empire State Building and much more.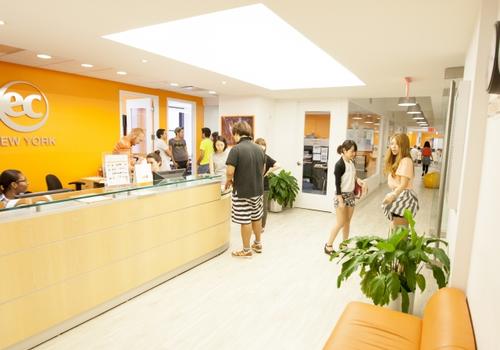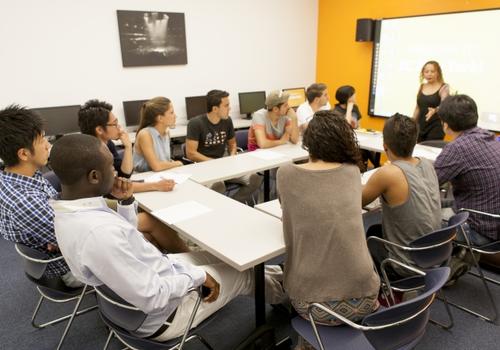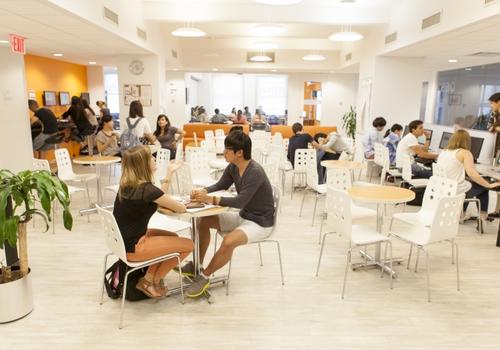 School Prices
---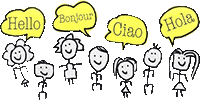 All course prices include: The course as described, a placement test and course certificate, course book, welcome pack, activity program, free Internet (also Wifi), library.
Tip: The longer the course, the cheaper the price per week!
| | << | 1 we.. | 2 we.. | 3 we.. | 4 we.. | 5 we.. | >> |
| --- | --- | --- | --- | --- | --- | --- | --- |
| Standard English Course (20 lessons/week) | | 450 € | 900 € | 1350 € | 1800 € | 2250 € | |
| Host Family with Breakfast (Single room) | | 860 € | 1.720 € | 2.580 € | 3.440 € | 4.300 € | |
| Host family with Breakfast (Twin room) | | 770 € | 1.540 € | 2.310 € | 3.080 € | 3.850 € | |
| Host Family with Half board (Single room) | | 910 € | 1.820 € | 2.730 € | 3.640 € | 4.550 € | |
| Host Family with Half board (Twin room) | | 860 € | 1.720 € | 2.580 € | 3.440 € | 4.300 € | |
| Manhattan Host Family with Breakfast (Single room) | | 1.020 € | 2.040 € | 3.060 € | 4.080 € | 5.100 € | |
| Manhattan Host Family with Half board (Single room) | | 1.135 € | 2.270 € | 3.405 € | 4.540 € | 5.675 € | |
| Student Residence Self-catering (Single room ensuite) | | 1.135 € | 2.270 € | 3.405 € | 4.540 € | 5.675 € | |
| Semi Intensive English Course (24 lessons/week) | | 490 € | 980 € | 1470 € | 1960 € | 2450 € | |
| Host Family with Breakfast (Single room) | | 900 € | 1.800 € | 2.700 € | 3.600 € | 4.500 € | |
| Host family with Breakfast (Twin room) | | 810 € | 1.620 € | 2.430 € | 3.240 € | 4.050 € | |
| Host Family with Half board (Single room) | | 950 € | 1.900 € | 2.850 € | 3.800 € | 4.750 € | |
| Host Family with Half board (Twin room) | | 900 € | 1.800 € | 2.700 € | 3.600 € | 4.500 € | |
| Manhattan Host Family with Breakfast (Single room) | | 1.060 € | 2.120 € | 3.180 € | 4.240 € | 5.300 € | |
| Manhattan Host Family with Half board (Single room) | | 1.175 € | 2.350 € | 3.525 € | 4.700 € | 5.875 € | |
| Student Residence Self-catering (Single room ensuite) | | 1.175 € | 2.350 € | 3.525 € | 4.700 € | 5.875 € | |
| Intensive English Course (30 lessons/week) | | 550 € | 1100 € | 1650 € | 2200 € | 2750 € | |
| Host Family with Breakfast (Single room) | | 960 € | 1.920 € | 2.880 € | 3.840 € | 4.800 € | |
| Host family with Breakfast (Twin room) | | 870 € | 1.740 € | 2.610 € | 3.480 € | 4.350 € | |
| Host Family with Half board (Single room) | | 1.010 € | 2.020 € | 3.030 € | 4.040 € | 5.050 € | |
| Host Family with Half board (Twin room) | | 960 € | 1.920 € | 2.880 € | 3.840 € | 4.800 € | |
| Manhattan Host Family with Breakfast (Single room) | | 1.120 € | 2.240 € | 3.360 € | 4.480 € | 5.600 € | |
| Manhattan Host Family with Half board (Single room) | | 1.235 € | 2.470 € | 3.705 € | 4.940 € | 6.175 € | |
| Student Residence Self-catering (Single room ensuite) | | 1.235 € | 2.470 € | 3.705 € | 4.940 € | 6.175 € | |
| Business English Course (24 lessons/week) | | 490 € | 980 € | 1470 € | 1960 € | 2450 € | |
| Host Family with Breakfast (Single room) | | 900 € | 1.800 € | 2.700 € | 3.600 € | 4.500 € | |
| Host family with Breakfast (Twin room) | | 810 € | 1.620 € | 2.430 € | 3.240 € | 4.050 € | |
| Host Family with Half board (Single room) | | 950 € | 1.900 € | 2.850 € | 3.800 € | 4.750 € | |
| Host Family with Half board (Twin room) | | 900 € | 1.800 € | 2.700 € | 3.600 € | 4.500 € | |
| Manhattan Host Family with Breakfast (Single room) | | 1.060 € | 2.120 € | 3.180 € | 4.240 € | 5.300 € | |
| Manhattan Host Family with Half board (Single room) | | 1.175 € | 2.350 € | 3.525 € | 4.700 € | 5.875 € | |
| Student Residence Self-catering (Single room ensuite) | | 1.175 € | 2.350 € | 3.525 € | 4.700 € | 5.875 € | |
| English in the City (20 + 10 lessons/week) | | 490 € | 980 € | 1470 € | 1960 € | -- | |
| Host Family with Breakfast (Single room) | | 900 € | 1.800 € | 2.700 € | 3.600 € | -- | |
| Host family with Breakfast (Twin room) | | 810 € | 1.620 € | 2.430 € | 3.240 € | -- | |
| Host Family with Half board (Single room) | | 950 € | 1.900 € | 2.850 € | 3.800 € | -- | |
| Host Family with Half board (Twin room) | | 900 € | 1.800 € | 2.700 € | 3.600 € | -- | |
| Manhattan Host Family with Breakfast (Single room) | | 1.060 € | 2.120 € | 3.180 € | 4.240 € | -- | |
| Manhattan Host Family with Half board (Single room) | | 1.175 € | 2.350 € | 3.525 € | 4.700 € | -- | |
| Student Residence Self-catering (Single room ensuite) | | 1.175 € | 2.350 € | 3.525 € | 4.700 € | -- | |
| TOEFL Exam Course (20 lessons/week) | | -- | -- | -- | 1800 € | 2250 € | |
| Host Family with Breakfast (Single room) | | -- | -- | -- | 3.440 € | 4.300 € | |
| Host family with Breakfast (Twin room) | | -- | -- | -- | 3.080 € | 3.850 € | |
| Host Family with Half board (Single room) | | -- | -- | -- | 3.640 € | 4.550 € | |
| Host Family with Half board (Twin room) | | -- | -- | -- | 3.440 € | 4.300 € | |
| Manhattan Host Family with Breakfast (Single room) | | -- | -- | -- | 4.080 € | 5.100 € | |
| Manhattan Host Family with Half board (Single room) | | -- | -- | -- | 4.540 € | 5.675 € | |
| Student Residence Self-catering (Single room ensuite) | | -- | -- | -- | 4.540 € | 5.675 € | |
| TOEFL Exam Course (30 lessons/week) | | -- | -- | -- | 2200 € | 2750 € | |
| Host Family with Breakfast (Single room) | | -- | -- | -- | 3.840 € | 4.800 € | |
| Host family with Breakfast (Twin room) | | -- | -- | -- | 3.480 € | 4.350 € | |
| Host Family with Half board (Single room) | | -- | -- | -- | 4.040 € | 5.050 € | |
| Host Family with Half board (Twin room) | | -- | -- | -- | 3.840 € | 4.800 € | |
| Manhattan Host Family with Breakfast (Single room) | | -- | -- | -- | 4.480 € | 5.600 € | |
| Manhattan Host Family with Half board (Single room) | | -- | -- | -- | 4.940 € | 6.175 € | |
| Student Residence Self-catering (Single room ensuite) | | -- | -- | -- | 4.940 € | 6.175 € | |
| Private English Course (20 hrs/week) | | 3100 € | 6200 € | 9300 € | 12400 € | 15500 € | |
| Host Family with Breakfast (Single room) | | 3.510 € | 7.020 € | 10.530 € | 14.040 € | 17.550 € | |
| Host family with Breakfast (Twin room) | | 3.420 € | 6.840 € | 10.260 € | 13.680 € | 17.100 € | |
| Host Family with Half board (Single room) | | 3.560 € | 7.120 € | 10.680 € | 14.240 € | 17.800 € | |
| Host Family with Half board (Twin room) | | 3.510 € | 7.020 € | 10.530 € | 14.040 € | 17.550 € | |
| Manhattan Host Family with Breakfast (Single room) | | 3.670 € | 7.340 € | 11.010 € | 14.680 € | 18.350 € | |
| Manhattan Host Family with Half board (Single room) | | 3.785 € | 7.570 € | 11.355 € | 15.140 € | 18.925 € | |
| Student Residence Self-catering (Single room ensuite) | | 3.785 € | 7.570 € | 11.355 € | 15.140 € | 18.925 € | |
| Private English Course (30 hrs/week) | | 4650 € | 9300 € | 13950 € | 18600 € | 23250 € | |
| Host Family with Breakfast (Single room) | | 5.060 € | 10.120 € | 15.180 € | 20.240 € | 25.300 € | |
| Host family with Breakfast (Twin room) | | 4.970 € | 9.940 € | 14.910 € | 19.880 € | 24.850 € | |
| Host Family with Half board (Single room) | | 5.110 € | 10.220 € | 15.330 € | 20.440 € | 25.550 € | |
| Host Family with Half board (Twin room) | | 5.060 € | 10.120 € | 15.180 € | 20.240 € | 25.300 € | |
| Manhattan Host Family with Breakfast (Single room) | | 5.220 € | 10.440 € | 15.660 € | 20.880 € | 26.100 € | |
| Manhattan Host Family with Half board (Single room) | | 5.335 € | 10.670 € | 16.005 € | 21.340 € | 26.675 € | |
| Student Residence Self-catering (Single room ensuite) | | 5.335 € | 10.670 € | 16.005 € | 21.340 € | 26.675 € | |
Course Dates and Info
National holidays: 02.01.2023 , 16.01.2023 , 20.02.2023 , 29.05.2023 , 19.06.2023 , 04.07.2023 , 04.09.2023 , 09.10.2023 , 10.11.2023 , 23.11.2023 , 24.11.2023 , 25.12.2023
Starting dates: Start every Monday
Starting dates Exam Preparation (TOEFL): 12.06.2023 , 19.06.2023 , 26.06.2023 , 03.07.2023 , 10.07.2023 , 17.07.2023 , 24.07.2023 , 31.07.2023 , 07.08.2023 , 14.08.2023
SR - Single room; DR - Twin/double room