What Manchester does today, the world does tomorrow. EC Manchester is a boutique space in the heart of this revolutionary, entrepreneurial and innovative city, famous for its world-class football, vibrant music scene and friendly Northern charm.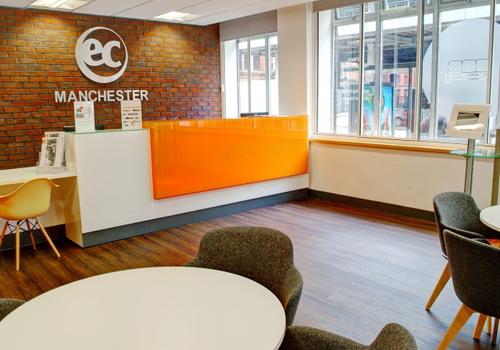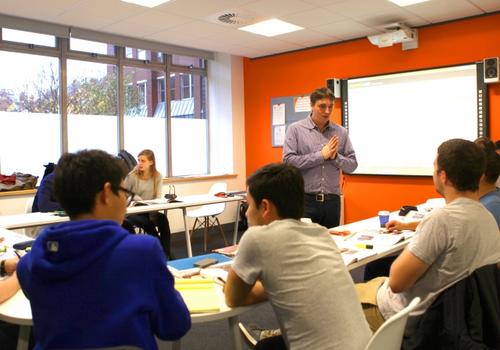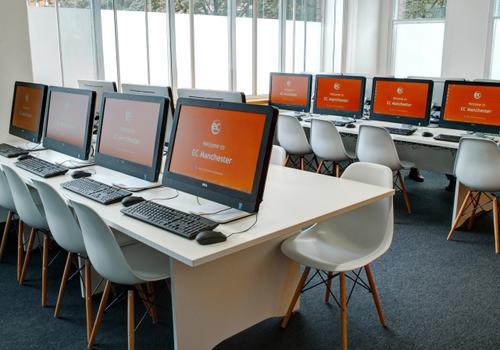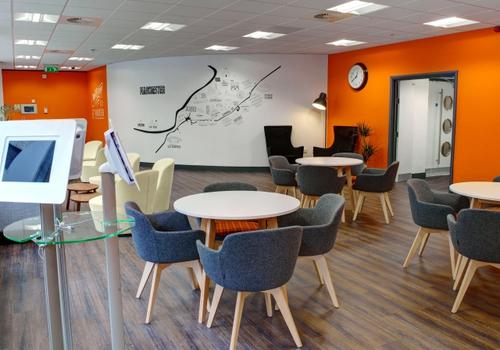 School Prices
---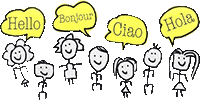 All course prices include: The course as described, placement test and course certificate, course book, course material, welcome pack, free Internet access (WiFi), English language activities and workshops.
Tip: The longer the course, the cheaper the price per week!
| | << | 1 we.. | 2 we.. | 3 we.. | 4 we.. | 5 we.. | >> |
| --- | --- | --- | --- | --- | --- | --- | --- |
| Standard English Course (20 lessons/week) | | 431.25 € | 862.5 € | 1293.75 € | 1725 € | 2156.25 € | |
| Host Family with Breakfast (Single room) | | 675 € | 1.350 € | 2.025 € | 2.700 € | 3.375 € | |
| Host family with Breakfast (Twin room) | | 644 € | 1.288 € | 1.931 € | 2.575 € | 3.219 € | |
| Host Family with Half board (Single room) | | 706 € | 1.413 € | 2.119 € | 2.825 € | 3.531 € | |
| Host Family with Half board (Twin room) | | 675 € | 1.350 € | 2.025 € | 2.700 € | 3.375 € | |
| Superior Host Family with Breakfast (Single room ensuite) | | 769 € | 1.538 € | 2.306 € | 3.075 € | 3.844 € | |
| Superior Host Family with Half board (Single room ensuite) | | 794 € | 1.588 € | 2.381 € | 3.175 € | 3.969 € | |
| Residence Self-catering (Single room ensuite) | | 769 € | 1.538 € | 2.306 € | 3.075 € | 3.844 € | |
| Intensive English Course (30 lessons/week) | | 550 € | 1100 € | 1650 € | 2200 € | 2750 € | |
| Host Family with Breakfast (Single room) | | 794 € | 1.588 € | 2.381 € | 3.175 € | 3.969 € | |
| Host family with Breakfast (Twin room) | | 763 € | 1.525 € | 2.288 € | 3.050 € | 3.813 € | |
| Host Family with Half board (Single room) | | 825 € | 1.650 € | 2.475 € | 3.300 € | 4.125 € | |
| Host Family with Half board (Twin room) | | 794 € | 1.588 € | 2.381 € | 3.175 € | 3.969 € | |
| Superior Host Family with Breakfast (Single room ensuite) | | 888 € | 1.775 € | 2.663 € | 3.550 € | 4.438 € | |
| Superior Host Family with Half board (Single room ensuite) | | 913 € | 1.825 € | 2.738 € | 3.650 € | 4.563 € | |
| Residence Self-catering (Single room ensuite) | | 888 € | 1.775 € | 2.663 € | 3.550 € | 4.438 € | |
| IELTS Exam Course (20 lessons/week) | | -- | -- | -- | 1725 € | 2156.25 € | |
| Host Family with Breakfast (Single room) | | -- | -- | -- | 2.700 € | 3.375 € | |
| Host family with Breakfast (Twin room) | | -- | -- | -- | 2.575 € | 3.219 € | |
| Host Family with Half board (Single room) | | -- | -- | -- | 2.825 € | 3.531 € | |
| Host Family with Half board (Twin room) | | -- | -- | -- | 2.700 € | 3.375 € | |
| Superior Host Family with Breakfast (Single room ensuite) | | -- | -- | -- | 3.075 € | 3.844 € | |
| Superior Host Family with Half board (Single room ensuite) | | -- | -- | -- | 3.175 € | 3.969 € | |
| Residence Self-catering (Single room ensuite) | | -- | -- | -- | 3.075 € | 3.844 € | |
| Private English Course (20 lessons/week) | | 3000 € | 6000 € | 9000 € | 12000 € | 15000 € | |
| Host Family with Breakfast (Single room) | | 3.244 € | 6.488 € | 9.731 € | 12.975 € | 16.219 € | |
| Host family with Breakfast (Twin room) | | 3.213 € | 6.425 € | 9.638 € | 12.850 € | 16.063 € | |
| Host Family with Half board (Single room) | | 3.275 € | 6.550 € | 9.825 € | 13.100 € | 16.375 € | |
| Host Family with Half board (Twin room) | | 3.244 € | 6.488 € | 9.731 € | 12.975 € | 16.219 € | |
| Superior Host Family with Breakfast (Single room ensuite) | | 3.338 € | 6.675 € | 10.013 € | 13.350 € | 16.688 € | |
| Superior Host Family with Half board (Single room ensuite) | | 3.363 € | 6.725 € | 10.088 € | 13.450 € | 16.813 € | |
| Residence Self-catering (Single room ensuite) | | 3.338 € | 6.675 € | 10.013 € | 13.350 € | 16.688 € | |
| Private English Course (30 lessons/week) | | 4500 € | 9000 € | 13500 € | 18000 € | 22500 € | |
| Host Family with Breakfast (Single room) | | 4.744 € | 9.488 € | 14.231 € | 18.975 € | 23.719 € | |
| Host family with Breakfast (Twin room) | | 4.713 € | 9.425 € | 14.138 € | 18.850 € | 23.563 € | |
| Host Family with Half board (Single room) | | 4.775 € | 9.550 € | 14.325 € | 19.100 € | 23.875 € | |
| Host Family with Half board (Twin room) | | 4.744 € | 9.488 € | 14.231 € | 18.975 € | 23.719 € | |
| Superior Host Family with Breakfast (Single room ensuite) | | 4.838 € | 9.675 € | 14.513 € | 19.350 € | 24.188 € | |
| Superior Host Family with Half board (Single room ensuite) | | 4.863 € | 9.725 € | 14.588 € | 19.450 € | 24.313 € | |
| Residence Self-catering (Single room ensuite) | | 4.838 € | 9.675 € | 14.513 € | 19.350 € | 24.188 € | |
Course Dates and Info
National holidays: 02.01.2023 , 07.04.2023 , 10.04.2023 , 01.05.2023 , 29.05.2023 , 28.08.2023 , 25.12.2023 , 26.12.2023
Starting dates: Start every Monday
SR - Single room; DR - Twin/double room
Accommodation
---
Host family
---
Host Family
Staying with a homestay provider is both exciting and rewarding. Homestay providers offer the best insight into daily British culture and life. This…
read more

---
Placement Fee: 30.00
Minimum Age: 16
Maximum number of students per room: 1
Mandatory Transfer: No
Accommodation Type: Host family
Board: Bed and Breakfast, Half Board
Bathroom type: private bathroom, shared bathroom
Room type: Single room, Double room
Residence
---
Student Residence - Vita Student Studios
Vita Student at First Street is a brand new, luxurious studio development in Manchester's bustling and eclectic city centre. The…
read more

---
Placement Fee: 30.00
Minimum Age: 18
Maximum number of students per room: 1
Mandatory Transfer: No
Accommodation Type: Residence
Board: Self-catering
Bathroom type: private bathroom
Room type: Single room
Residence
---
Summer Residence - Liberty Point
Liberty Point has been designed to create a comfortable and inspirational living spaces for all students.

All rooms are…
read more

---
Placement Fee: 30.00
Minimum Age: 18
Maximum number of students per room: 1
Mandatory Transfer: No
Accommodation Type: Residence
Board: Self-catering
Bathroom type: private bathroom
Room type: Single room