Our language school is located in a quiet area of Antibes, just a stone's throw from the old Antibes with its narrow streets and typical Provençal quarter. It has two buildings: "Le Château", the main school, and "Le Port", which welcomes students when the château school has reached its maximum capacity, usually at Easter, June or September. Both buildings are within a 20-minute walk of each other.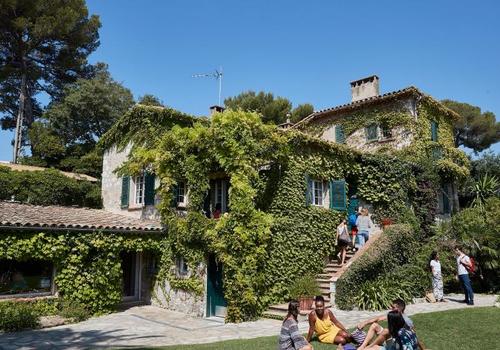 School Prices
---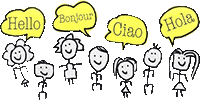 All course prices include: All courses include placement tests and course certificate, course material, information material, guided tour of the town on the first day of school, free internet connection.
Tip: The longer the course, the cheaper the price per week!
| | << | 1 we.. | 2 we.. | 3 we.. | 4 we.. | 5 we.. | >> |
| --- | --- | --- | --- | --- | --- | --- | --- |
| Standard French Course (20 lessons/week) | | 289 € | 538 € | 807 € | 1076 € | 975 € | |
| French host single room breakfast | | 614 € | 1.188 € | 1.782 € | 2.376 € | 2.600 € | |
| Host Family twin room breakfast | | 499 € | 958 € | 1.437 € | 1.916 € | 2.025 € | |
| Homestay – HB (single room) | | 674 € | 1.308 € | 1.962 € | 2.616 € | 2.900 € | |
| Host Family Double Half Board | | 559 € | 1.078 € | 1.617 € | 2.156 € | 2.325 € | |
| Residence – SC (Studio) | | 569 € | 1.098 € | 1.647 € | 2.196 € | 2.375 € | |
| Residence Aragon (Studio Double) | | 429 € | 818 € | 1.227 € | 1.636 € | 1.675 € | |
| Intensive French Course (30 lessons/week) | | 415 € | 790 € | 1185 € | 1580 € | 1425 € | |
| French host single room breakfast | | 740 € | 1.440 € | 2.160 € | 2.880 € | 3.050 € | |
| Host Family twin room breakfast | | 625 € | 1.210 € | 1.815 € | 2.420 € | 2.475 € | |
| Homestay – HB (single room) | | 800 € | 1.560 € | 2.340 € | 3.120 € | 3.350 € | |
| Host Family Double Half Board | | 685 € | 1.330 € | 1.995 € | 2.660 € | 2.775 € | |
| Residence – SC (Studio) | | 695 € | 1.350 € | 2.025 € | 2.700 € | 2.825 € | |
| Residence Aragon (Studio Double) | | 555 € | 1.070 € | 1.605 € | 2.140 € | 2.125 € | |
| Combined French Course (20 + 4 lessons/week) | | 485 € | 930 € | 1395 € | 1860 € | 1975 € | |
| French host single room breakfast | | 810 € | 1.580 € | 2.370 € | 3.160 € | 3.600 € | |
| Host Family twin room breakfast | | 695 € | 1.350 € | 2.025 € | 2.700 € | 3.025 € | |
| Homestay – HB (single room) | | 870 € | 1.700 € | 2.550 € | 3.400 € | 3.900 € | |
| Host Family Double Half Board | | 755 € | 1.470 € | 2.205 € | 2.940 € | 3.325 € | |
| Residence – SC (Studio) | | 765 € | 1.490 € | 2.235 € | 2.980 € | 3.375 € | |
| Residence Aragon (Studio Double) | | 625 € | 1.210 € | 1.815 € | 2.420 € | 2.675 € | |
| Combined French Course (30 + 4 lessons/week) | | 611 € | 1182 € | 1773 € | 2364 € | 2425 € | |
| French host single room breakfast | | 936 € | 1.832 € | 2.748 € | 3.664 € | 4.050 € | |
| Host Family twin room breakfast | | 821 € | 1.602 € | 2.403 € | 3.204 € | 3.475 € | |
| Homestay – HB (single room) | | 996 € | 1.952 € | 2.928 € | 3.904 € | 4.350 € | |
| Host Family Double Half Board | | 881 € | 1.722 € | 2.583 € | 3.444 € | 3.775 € | |
| Residence – SC (Studio) | | 891 € | 1.742 € | 2.613 € | 3.484 € | 3.825 € | |
| Residence Aragon (Studio Double) | | 751 € | 1.462 € | 2.193 € | 2.924 € | 3.125 € | |
| 30+ French Mini Group (20 lessons/week) | | 518 € | 996 € | 1494 € | 1992 € | 1850 € | |
| French host single room breakfast | | 843 € | 1.646 € | 2.469 € | 3.292 € | 3.475 € | |
| Host Family twin room breakfast | | 728 € | 1.416 € | 2.124 € | 2.832 € | 2.900 € | |
| Homestay – HB (single room) | | 903 € | 1.766 € | 2.649 € | 3.532 € | 3.775 € | |
| Host Family Double Half Board | | 788 € | 1.536 € | 2.304 € | 3.072 € | 3.200 € | |
| Residence – SC (Studio) | | 798 € | 1.556 € | 2.334 € | 3.112 € | 3.250 € | |
| Residence Aragon (Studio Double) | | 658 € | 1.276 € | 1.914 € | 2.552 € | 2.550 € | |
| DELF Exam Course (30 lessons/week) | | 285 € | 570 € | 855 € | 1140 € | 1425 € | |
| French host single room breakfast | | 610 € | 1.220 € | 1.830 € | 2.440 € | 3.050 € | |
| Host Family twin room breakfast | | 495 € | 990 € | 1.485 € | 1.980 € | 2.475 € | |
| Homestay – HB (single room) | | 670 € | 1.340 € | 2.010 € | 2.680 € | 3.350 € | |
| Host Family Double Half Board | | 555 € | 1.110 € | 1.665 € | 2.220 € | 2.775 € | |
| Residence – SC (Studio) | | 565 € | 1.130 € | 1.695 € | 2.260 € | 2.825 € | |
| Residence Aragon (Studio Double) | | 425 € | 850 € | 1.275 € | 1.700 € | 2.125 € | |
| Private French Course (20 lessons/week) | | 1600 € | 3200 € | 4800 € | 6400 € | 8000 € | |
| French host single room breakfast | | 1.925 € | 3.850 € | 5.775 € | 7.700 € | 9.625 € | |
| Host Family twin room breakfast | | 1.810 € | 3.620 € | 5.430 € | 7.240 € | 9.050 € | |
| Homestay – HB (single room) | | 1.985 € | 3.970 € | 5.955 € | 7.940 € | 9.925 € | |
| Host Family Double Half Board | | 1.870 € | 3.740 € | 5.610 € | 7.480 € | 9.350 € | |
| Residence – SC (Studio) | | 1.880 € | 3.760 € | 5.640 € | 7.520 € | 9.400 € | |
| Residence Aragon (Studio Double) | | 1.740 € | 3.480 € | 5.220 € | 6.960 € | 8.700 € | |
| Private French Course (30 lessons/week) | | 2400 € | 4800 € | 7200 € | 9600 € | 12000 € | |
| French host single room breakfast | | 2.725 € | 5.450 € | 8.175 € | 10.900 € | 13.625 € | |
| Host Family twin room breakfast | | 2.610 € | 5.220 € | 7.830 € | 10.440 € | 13.050 € | |
| Homestay – HB (single room) | | 2.785 € | 5.570 € | 8.355 € | 11.140 € | 13.925 € | |
| Host Family Double Half Board | | 2.670 € | 5.340 € | 8.010 € | 10.680 € | 13.350 € | |
| Residence – SC (Studio) | | 2.680 € | 5.360 € | 8.040 € | 10.720 € | 13.400 € | |
| Residence Aragon (Studio Double) | | 2.540 € | 5.080 € | 7.620 € | 10.160 € | 12.700 € | |
Course Dates and Info
National holidays: 10.04.2023 , 01.05.2023 , 18.05.2023 , 29.05.2023 , 14.07.2023 , 15.08.2023 , 01.11.2023
Starting dates: Start every Monday
Starting dates beginners: 09.01.2023 , 06.02.2023 , 06.03.2023 , 20.03.2023 , 03.04.2023 , 24.04.2023 , 08.05.2023 , 22.05.2023 , 05.06.2023 , 19.06.2023 , 03.07.2023 , 17.07.2023 , 07.08.2023 , 21.08.2023 , 04.09.2023 , 18.09.2023 , 02.10.2023 , 16.10.2023 , 06.11.2023 , 27.11.2023
30+: 01.05.2023 , 08.05.2023 , 15.05.2023 , 22.05.2023 , 29.05.2023 , 05.06.2023 , 12.06.2023 , 19.06.2023 , 26.06.2023 , 03.07.2023 , 10.07.2023 , 17.07.2023 , 24.07.2023 , 31.07.2023 , 07.08.2023
Starting dates Exam preparation DELF / DALF: 09.01.2023 , 30.01.2023 , 06.02.2023 , 13.02.2023 , 06.03.2023 , 03.04.2023 , 17.04.2023 , 01.05.2023 , 08.05.2023 , 15.05.2023 , 29.05.2023 , 05.06.2023 , 12.06.2023 , 26.06.2023 , 03.07.2023 , 17.07.2023 , 24.07.2023 , 21.08.2023 , 28.08.2023 , 04.09.2023 , 18.09.2023 , 25.09.2023 , 09.10.2023 , 16.10.2023 , 30.10.2023
SR - Single room; DR - Twin/double room