AIL Madrid is the best Spanish language school in Madrid: we are energetic, loving, just the right amount of wacky, and are so much like family that we will probably embarrass you in front of your friends! Our classes are small and super interactive, our teachers are Spanish language rocket scientists ready to boost you to the next level, and we are located in a city full of Latin rhythms, tapas, and so much more!
AIL Madrid offers the most exciting course options on the market, including options like Spanish with Art or Dance, Intensive Spanish Classes, Gap Year Spanish, Premium Spanish, and Evening classes for professionals. Outside the classroom, we have over 70 different fun afternoon activities so you can enjoy everything from cooking classes, trips to the world's most famous museums, guided city tours and so much more, all while making new friends from around the world.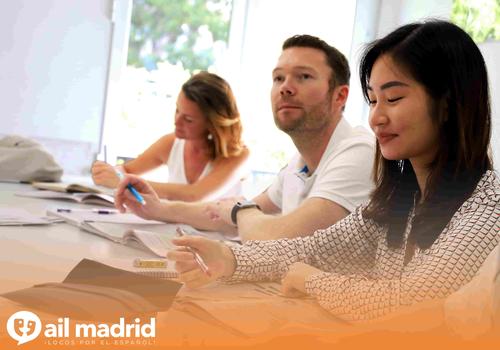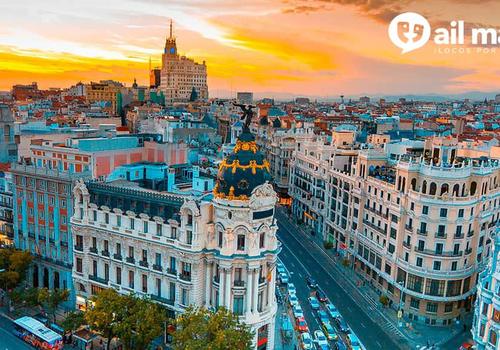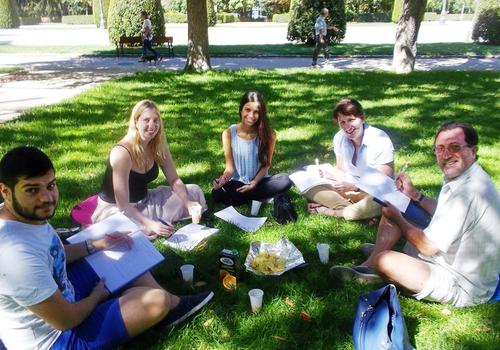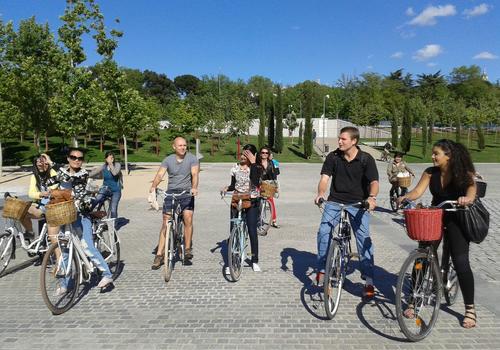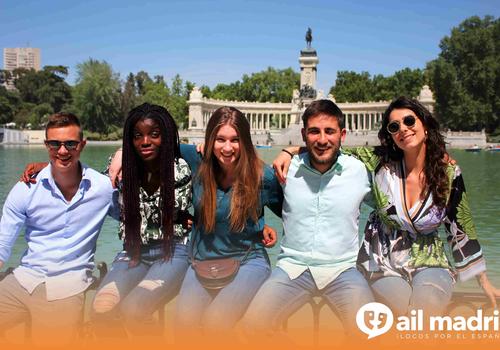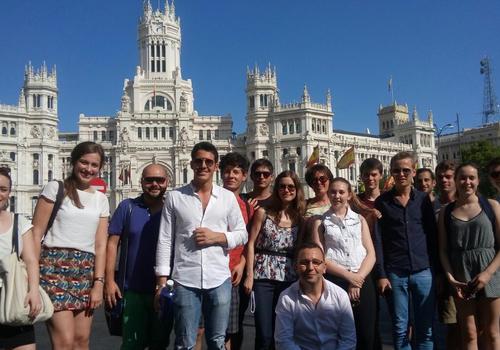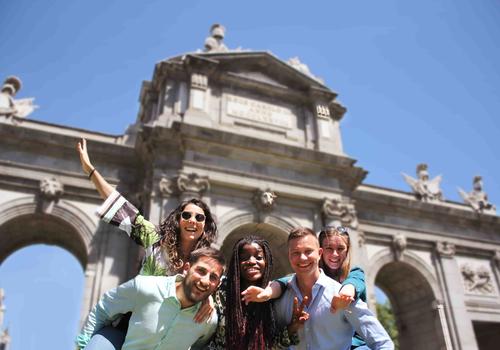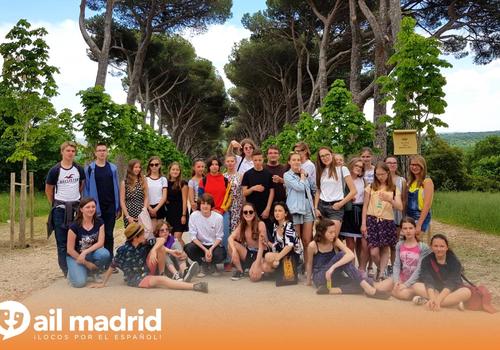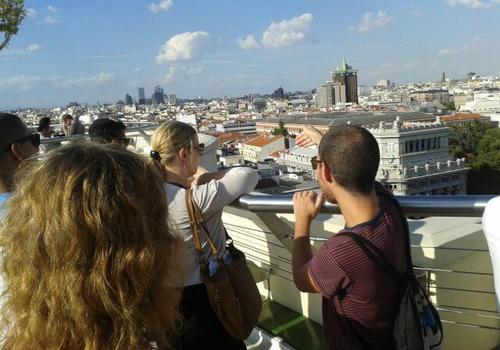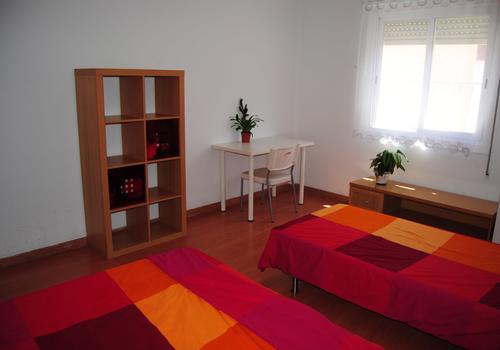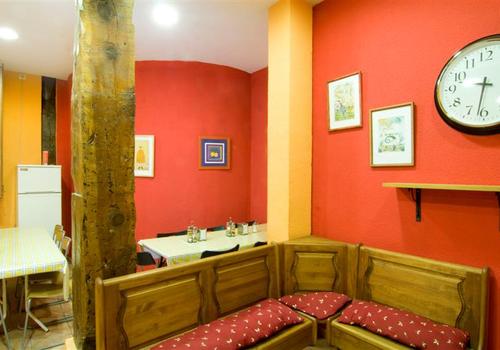 School Prices
---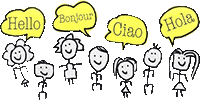 All course prices include: Spanish language Courses as described, first course book and course materials, placement test and course certificate, welcome dinner in a typical Spanish restaurant, free Internet access, free use of the library, activities program (excluding entry and transfer prices).
Tip: The longer the course, the cheaper the price per week!
01.01.2023 - 31.12.2023 (01.01.2023 - 31.12.2023)

<<
1 we..
2 we..
3 we..
4 we..
5 we..
>>
Standard Spanish Course (20 lessons/week)
190 €
380 €
570 €
760 €
950 €
Homestay – HB (single room)

414 €

828 €

1.242 €

1.656 €

2.070 €

Homestay – HB (twin room)

393 €

786 €

1.179 €

1.572 €

1.965 €

Shared Apartment – SC (single room)

386 €

772 €

1.158 €

1.544 €

1.930 €

Shared Apartment – SC (twin room)

344 €

688 €

1.032 €

1.376 €

1.720 €

Intensive Spanish Course (30 lessons/week)
290 €
580 €
870 €
1160 €
1450 €
Homestay – HB (single room)

514 €

1.028 €

1.542 €

2.056 €

2.570 €

Homestay – HB (twin room)

493 €

986 €

1.479 €

1.972 €

2.465 €

Shared Apartment – SC (single room)

486 €

972 €

1.458 €

1.944 €

2.430 €

Shared Apartment – SC (twin room)

444 €

888 €

1.332 €

1.776 €

2.220 €

DELE Exam Course (20 + 10 lessons/week)
--
630 €
--
1260 €
--
Homestay – HB (single room)
--

1.078 €

--

2.156 €

--
Homestay – HB (twin room)
--

1.036 €

--

2.072 €

--
Host Family with Full board (Single room)
--

1.162 €

--

2.324 €

--
Host Family with Full board (Twin room)
--

1.120 €

--

2.240 €

--
Shared Apartment – SC (single room)
--

1.022 €

--

2.044 €

--
Shared Apartment – SC (twin room)
--

938 €

--

1.876 €

--
Standard Business Spanish Course (20 + 5 lessons/week)
365 €
730 €
1095 €
1460 €
1825 €
Homestay – HB (single room)

589 €

1.178 €

1.767 €

2.356 €

2.945 €

Homestay – HB (twin room)

568 €

1.136 €

1.704 €

2.272 €

2.840 €

Host Family with Full board (Single room)

631 €

1.262 €

1.893 €

2.524 €

3.155 €

Host Family with Full board (Twin room)

610 €

1.220 €

1.830 €

2.440 €

3.050 €

Shared Apartment – SC (single room)

561 €

1.122 €

1.683 €

2.244 €

2.805 €

Shared Apartment – SC (twin room)

519 €

1.038 €

1.557 €

2.076 €

2.595 €

50+ Programme (20 lessons + activities/week)
230 €
--
--
--
--
Homestay – HB (single room)

454 €

--
--
--
--
Homestay – HB (twin room)

433 €

--
--
--
--
Host Family with Full board (Single room)

496 €

--
--
--
--
Host Family with Full board (Twin room)

475 €

--
--
--
--
Shared Apartment – SC (single room)

426 €

--
--
--
--
Shared Apartment – SC (twin room)

384 €

--
--
--
--
Private Spanish Course (20 lessons/week)
700 €
1400 €
2100 €
2800 €
3500 €
Homestay – HB (single room)

924 €

1.848 €

2.772 €

3.696 €

4.620 €

Homestay – HB (twin room)

903 €

1.806 €

2.709 €

3.612 €

4.515 €

Host Family with Full board (Single room)

966 €

1.932 €

2.898 €

3.864 €

4.830 €

Host Family with Full board (Twin room)

945 €

1.890 €

2.835 €

3.780 €

4.725 €

Shared Apartment – SC (single room)

896 €

1.792 €

2.688 €

3.584 €

4.480 €

Shared Apartment – SC (twin room)

854 €

1.708 €

2.562 €

3.416 €

4.270 €

Private Spanish Course (30 lessons/week)
1050 €
2100 €
3150 €
4200 €
5250 €
Homestay – HB (single room)

1.274 €

2.548 €

3.822 €

5.096 €

6.370 €

Homestay – HB (twin room)

1.253 €

2.506 €

3.759 €

5.012 €

6.265 €

Host Family with Full board (Single room)

1.316 €

2.632 €

3.948 €

5.264 €

6.580 €

Host Family with Full board (Twin room)

1.295 €

2.590 €

3.885 €

5.180 €

6.475 €

Shared Apartment – SC (single room)

1.246 €

2.492 €

3.738 €

4.984 €

6.230 €

Shared Apartment – SC (twin room)

1.204 €

2.408 €

3.612 €

4.816 €

6.020 €
Course Dates and Info
National holidays: 06.01.2023 , 20.03.2023 , 06.04.2023 , 07.04.2023 , 01.05.2023 , 02.05.2023 , 15.05.2023 , 15.08.2023 , 12.10.2023 , 01.11.2023 , 09.11.2023 , 06.12.2023 , 08.12.2023 , 25.12.2023
Starting dates: Start every Monday
Starting 50+: 06.02.2023 , 13.02.2023 , 17.04.2023 , 24.04.2023 , 10.07.2023 , 17.07.2023 , 02.10.2023 , 09.10.2023
SR - Single room; DR - Twin/double room; -